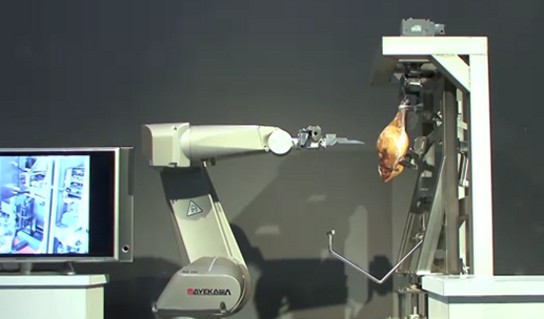 (image credit: DVICE)
we are accustomed to robotic arms assembling cars, but what you don't see often or even at all, is a robotic arm that debone pork. this specialized robotic arm, known as the HAMDAS-R, has a sharp knife on its end, instead of a grapple or robotic fingers.
it is designed specifically for deboning of pork which is a task that, to date, only human can manage due to the variations in form of pork. the HAMDAS-R has the ability to determine the variations and debone swiftly and accurately. kinda cool, except that if this robots are employed, i am sure there will be placards touting workers amassing in the streets in protest.
just don't add any more Artificial Intelligence than necessary to it, and please excludes any form of legs or wheels as well. we hate to see this thing chasing after us just because we made some silly comment about it.
via DVICE