Clearly, ruggedized gadgets aren't meant for regular consumers. They are mainly geared at people who expects a lot of bad things to happen to the gadget, such as places like construction site, around some glacier and the likes. If you happen to be in the said places, or anywhere that may expose your tablet to dire situations, then DELL's first fully rugged tablet, Latitude 12, may be a welcoming proposition and one that's looking rather neat. It is built to withstand harsh environments by resisting water spills, sand and dust, sustain drops from over four feet, and operating in extreme temperatures of between -20 and 145 degrees Fahrenheit.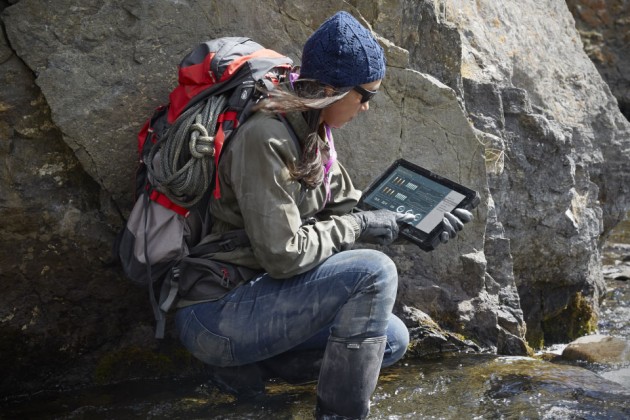 On the spec-sheet, it is equipped with a bright 11.6-inch sunlight- and glove-friend HD display and under the hood, it gets the fifth generation Intel Core M processor, kept cool with fourth generation QuadCool thermal management. Other noteworthy mentions include up to 8GB RAM, optional dedicated GPS, up to 512GB SSD, 2MP HD front-facing camera, a flash-equipped 8MP rear camera, dual microphones, 802.11ac WIFi, Bluetooth LE, 2-cell lithium-ion battery for up to 12 hours usage, and 64-bit Windows 8.1 Pro Operating System. Like most DELL's products, it is customizable with high capacity SSD, 4G LTE radio, more RAM, and software options.
There are a couple of optional accessories too, like rugged tablet desk dock, keyboard cover with kickstand, as well as extended IO module which adds two additional USB 3.0 ports and an Ethernet port to the device's USB 3.0 port, micro serial port, micro HDMI, microSD card reader, pogo-pin connectors and stereo audio combo jack. All, of course, protected by port covers and HZO liquid protection technology where needed to keep the nasties out. So how much for this rugged beauty? $1,999 is the starting price for the two base models and $2,399 and up for the range-topper model. Keep going for a few more look, as well as a product promo video.