we have seen a fair amount of camper trailers here, ranging from the ridiculously high-tech (and expensive) to the super rugged to some retro-licious examples. well, here is another one to add the list and this one goes straight into our must-have if you really need a camper trailer list. dubbed Dub-Box Camper, this made in USA tow-behind caravan is as retro as a camper can get. styled after the iconic Volkswagen Type 2, or more affectionately known as the Kombi or simply the Bus, each camper is fabricated from the ground up using new fiberglass shells over a steel frame, combining the concept of American vintage trailer with retro styling of the Bus, while providing modern amenities for a comfortable outdoor camping adventure. so in this way, you get to travel in nostalgic style with modern amenities, while not harming any real vintage VW buses. it is a win-win situation, except that you will have fork out at least $19,500 to start with. still, as far as uber cool factor is concerned, the Dub-Box Camper has it all. 100 percent.
it has a matching retro-inspired interior and comes fitted with premium quality fixtures and finish, insulated walls and floors, wall outlets, stainless steel sink, pump action tap, double bed and more. those are standards, but Dub-Box is more than happy to further customize the camper trailer to suit your needs and wants. some of the options include pop-up roof, awning, heating system, two-ring gas burner, retro-style fridge, Bluetooth stereo system, cassette toilet, outdoor shower et cetera, and you can even choose the color and finish that goes into the seating fabric, flooring, work surface, cabinets, just to name a few. a typical Dub-Box Camper measures 16 feet long from end-to-end and is 5 feet and 8 inches wide. it has an approximate weight of just 1,800 lbs (816 kg), which means it can be towed with ease by a variety of vehicles.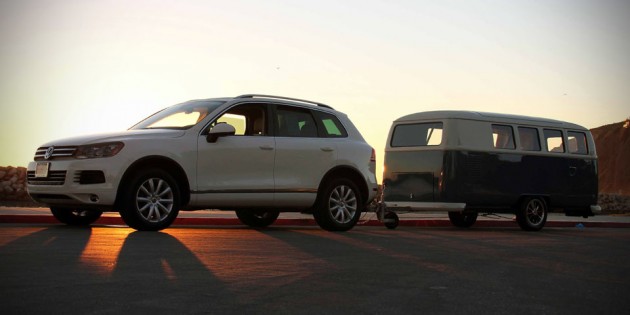 U.S. residents can order their Dub-Box from Dub-Box USA. as for those who resides in the U.K., you can head over to Dub-Box UK (which is where it all started). there's even an Food and Event Trailer ($22,000 and up) too – if you aspire to be a food vendor on wheels. in any case if a ready-built camper is beyond your budget and you have the knack with tools, you can choose to go the DIY route with the DIY package ($8,500 and up) which includes everything you need to put together a basic rolling trailer. check out a couple of videos below to learn more about Dub-Box Camper.
Dub-Box USA via Autoblog