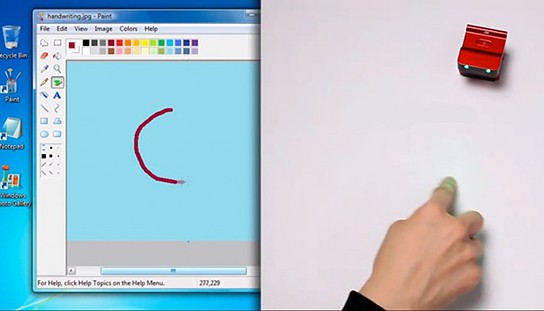 (image credit: Celluon) evoMouse | US$tbc | www.celluon.com
we are familiar with virtual keyboard, how about adding a virtual trackpad to the collection? Celluon, the Korea-based maker of portable input devices, has a new device that will turn almost any flat surface into a virtual trackpad. dubbed the evoMouse, this cute animal-looking device, projects a virtual trackpad on a flat surface and you can use it just like you would with a physical trackpad.
using your fingers, you can control the cursor, click and select, double-click, right-click and drag with basic hand gestures. the evoMouse is multi-touch ready, users can scroll, rotate, zoom, forward, back and it can even used for handwriting recognition with either your finger or a pen. touted as an easy to set up device, the evoMouse can connect to almost desktop or laptop via Bluetooth or the standard USB port. connection via USB port also charges the device with is good for two hours of usage on a single full charge.
sensing technology is making headway in computing and making devices even more portable. the evoMouse small footprint means ultra-portability and space saving on table top. pricing and availability of the evoMouse has yet to be announced but we are keeping watch as we can't wait to test it out ourself.