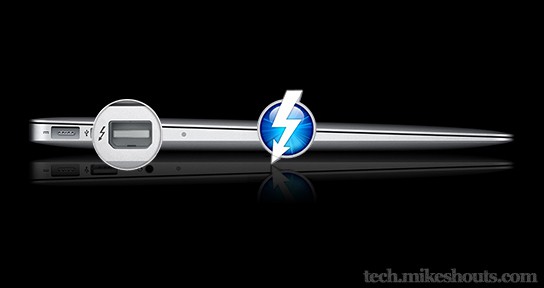 (credit: graphic by mike chua)
some Mac fans, MacBook Air in particular, might lament that the Air is lacking of the Intel's Thunderbolt technology but according to CNET, it looks like the Air might be getting a dose of Apple's fastest I/O together with "a notable processing boost." Apple is reportedly increasing the manufacturing of both the 11.6 inch and 13.3 inch MacBook Airs that features Intel's Sandy Bridge processors and of course, the much lauded Thunderbolt technology.
[ad#Google Adsense-text-468×60]
it is said that these new generation MacBook Air will be available sometime in June or July. it makes sense, as MacBook Pro and more recently, the iMac have already been blessed with significantly faster processor and sporting the Thunderbolt technology. so will you be getting the MacBook Air if it comes with the Thunderbolt technology? i wish i could. i had acquired an early 2011 MacPro because of Thunderbolt and gave the Air a miss because it doesn't feature it. as you would have imagined, i am cursing and swearing because of this piece of news.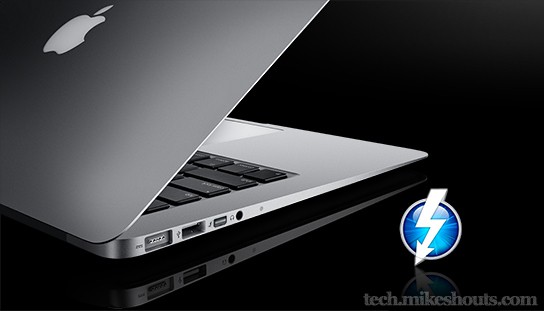 there will be no doubt that the Sandy Bridge processor will give the MacBook Air range a much needed boost. honestly, the previous generation Intel chip doesn't entice me a bit. however, there is a question raise with regards to whether the slim line body of the MacBook Air will still have room for Thunderbolt's controller. whatever it is, we will have to wait it and see. damn, i still can't get over my purchase even as i am writing this post. sore, as i am but i still welcome the news.
it sums up a statement that i like to use "it's never a good time to buy an Apple product these days." at least, it is not like what it use to be.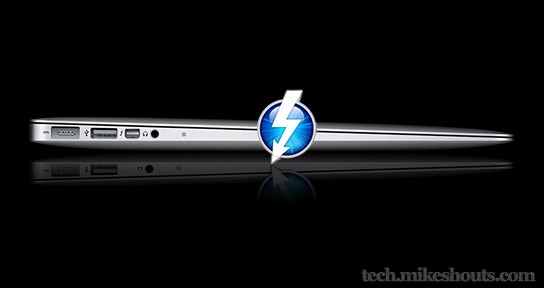 note: the images depicted here are my personal impression (put together by myself) of what the MacBook Air with the Thunderbolt port will look like. they does not represent Apple's final product. all images, including the MacBook Air image(s) and the Thunderbolt logo, belongs to the respective companies. if you do use these images, it will be much appreciated if you link back to this article. please do not use these images for profit or business gain. cheers!
via CNET