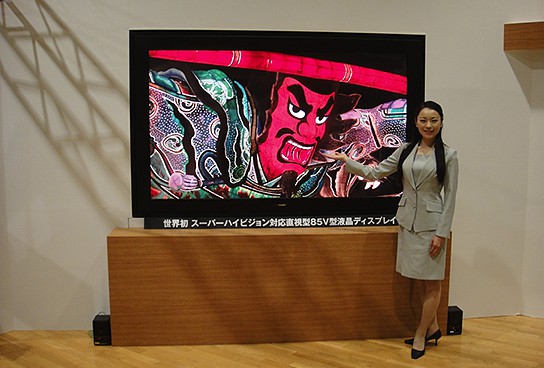 (credit: screenshot from World's First 8K Ultra High Definition Display video)
last week Sharp unveiled the world's first ultra high definition LCD display developed in collaboration with Japan broadcast station NHK. this 85-inch display has an amazing 7,680 x 4,320 pixels resolution which is 16 times the resolution of the current HDTV. thanks to Sharp's UV2A LCD technology which enables an incredible level of precision in controlling the alignment of the liquid crystal molecules in a LCD structure. the result is a mind-boggling 33 megapixels display. check out the video of this eye-popping display after the break.
[ad#Google Adsense-text-468×60]
previously, such awesome clarity and details can only be achievable by the means of a projector but this latest development by Sharp is set to change all that. the display is fully capable of displaying 10-bit color depth per channel at a refresh rate of 60Hz. NHK is set to give the audience in Japan an eye-popping experience with trial broadcasts in the year 2020. that sounds like a pretty long time to go but considering the associated technology, it is by no means an easy feat.
however, before the public gets to see the real broadcast, they can to view the glorious 85-inch ultra high definition display in person at the NHK's Science and Technology Research Laboratories in Tokyo from the May 26 to 29, 2011. so if you happen to be Japan (specifically, Tokyo) during this period, why not pop by and witness it for yourself?
if you are going to pay five figure amount for an oversized TV, this would definitely be the one display to do so. though, it is too early to put a price and availability to it. the technology behind it is nevertheless amazing.
via DigInfo TV