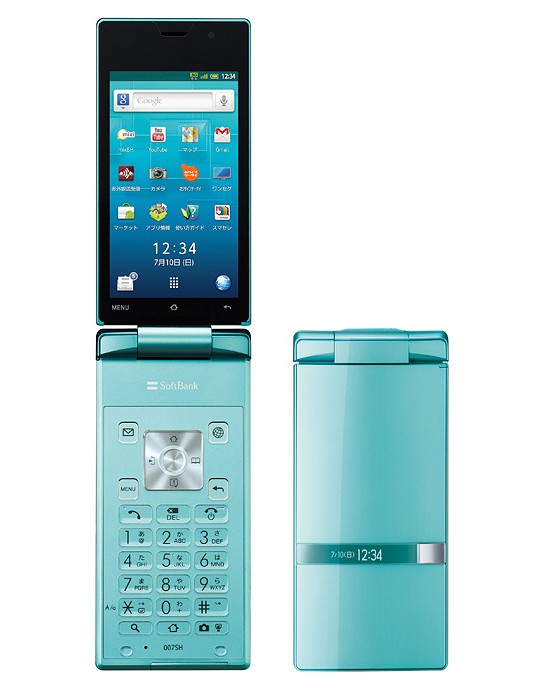 (credit: Sharp/Softbank)
what you see here is the world's first Android 2.3 clamshell form-factor phone from Sharp AQUOS line of mobile phone. it is well known that Japanese has an unwavering love for clamshell phone (and fancy phone straps!) and here it is, the Hybrid 007SH is here to satisfy the market's need for folding phones.
[ad#Google Adsense-text-468×60]
clamshell form-factor aside, this phone is packed with features such as IPX5/IPX7-equivalent waterproof and dust resistance body, a 16.1 megapixels camera, a 3.4-inch WVGA 3D new mobile ASV touchscreen (854 x 480 pixels) that's capable of displaying up to 65,000 colors, 3D photo and video mode. connectivity includes WiFi (b/g/n), Bluetooth 3.0 and AQUOS TV connector.
the phone is totally capable of HD 720p video recording, though no mention on the 3D recording resolution. though there's no mention of infrared port which is much a staple in Japanese mobile phone. a beautiful 0.7-inch organic EL display adorn the front of the phone. the phone sports a microSDHC card (a 2GB card is included) that supports up to 32GB.
Sharp has taken a bold move by introducing a clamshell form-factor Android phone which could potentially draw traditional featured phone Japanese users to the smartphone market. the Sharp AQUOS Hybrid 007SH will be marketed by Softbank and is slated for release in mid-June 2011. we just wish the option of a clamshell Android powered handset would reach other parts of the world as well.