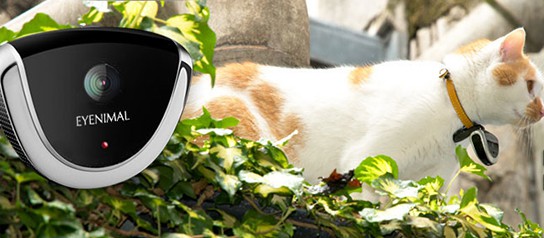 EYENIMAL Pet Video Camera | €99.10 | www.eyenimal.com
these days pets get everything to lead a chill, and comfortable life – now there is even a dedicated video camera for your pet. not that they will know how to operate the video camera but this camera, dubbed EYENIMAL, is small enough to be clipped on your pet's existing collar and when activated (by you, of course), it records where they have been as seen from their level.
this miniature video camera features an autofocus CMOS sensor with automatic light adjustment, built-in microphone and is able to capture image of 640 x 480 resolution at 29 frames per second. the EYENIMAL comes with built-in 8GB of Flash Memory, and a 500mA Li-Ion battery which is good for two and had hours of continuous recording. an included USB cable lets you transfer the recorded footage to your PC or Mac, and charges the video camera.
the EYENIMAL is designed to be used in wet or humid conditions so you can sure that the video camera works whereever your pet goes. now you would know where you pet went, especially cats, when you are not around. luckily, your pet won't be able to sue you for intrusion of its privacy.