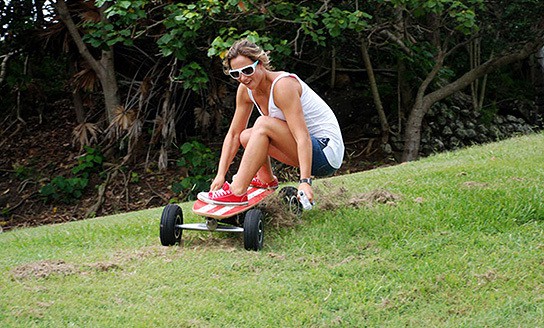 (image credit: FiiK) Fiik Electric Skateboard | from US$650.00 | www.fiikskateboards.com
i wouldn't say the Fiik electric skateboard is a technological marvel but it certainly removes the kicking out of skateboarding, physically and what's more, it gives you the satisfaction of going off-road which are often off-limits to conventional skateboards. introducting the Fiik electric skateboard, a range of electric powered skateboards that lets you cruise the street, as well as maneuvering lawns and dirt ground, effortlessly.
[ad#Google Adsense-text-468×60]
Fiik skateboard has come a long way. it began 10 years ago with a noisy two-stroke chainsaw motor strapped to a makeshift long board deck and today, we witness the new found fun of an electric powered skateboard, complete with modern day technology such as digital wireless control and ABS braking system. operation is as simple as firing up the electric motor, step on board and squeeze the trigger on the digital wireless control. three speed level ensures fun for all skill level of rider. currently, there are a total of seven models to choose from, each with its own characteristics.
electric motor power ranges from 250W for the PIPE MASTER to a whopping 800W for the STREET SURFER. incidentally, PIPE MASTER is also suitable for your junior, and is also suited for skatepark use. though, you probably can't do any handstand or stunts like a regular skateboards but it should provide hours of fun carving those half pipes. the Fiik skateboard is capable of a speed range between 22 km/h to 37 km/h, depending on the model. riders also has the option to upgrade its battery, and wheels. street wheels are hard rubber wheels for hard surfaces and there are also huge pneumatic tires for those off-road thrill.
a stepless throttle control ensures smooth acceleration and the built-in ABS braking system allows slowing down without the wheels locking up. sealed lead acid battery is the standard issue battery with option to upgrade to a more expensive lithium iron phosphate pack. standard battery charges to full in five to six hours and there's a rapid charger currently under development, which promises to cut the charging hours to two.
prices for the Fiik electric skateboard starts from $650 for PIPE MASTER and are available over at the Big Boyz Toy Shop.