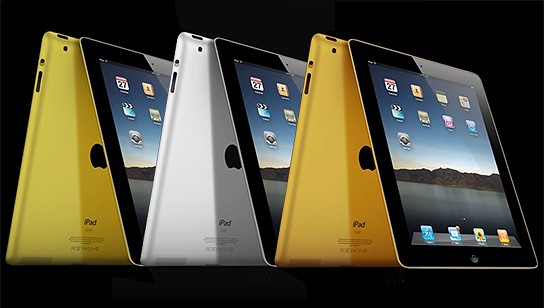 (credit: Goldgenie) Goldgenie iPad 2 | from £1,386.00 | www.goldgenie.com
can't get enough of luxury gadgets? then here's a trio for your taking. Goldgenie, the maestro for all things gold, has just announced the availability of the Gold iPad 2. this limited edition iPad 2 is clad in mirror-finish 24ct. gold from the back cover to the rim, and it comes complete with certificate of authenticity signed by James Caan and Laban Roomes – giving you the assurance that you are in fact paying for genuine stuff. if gold is not you cup of English Breakfast, there is also the Platinum edition and the Rose Gold edition to choose from. all three iPad 2 are limited edition, though Goldgenie did specifically mention how limited it is. you will have a choice of either 32GB or the 64GB storage capacity, in which both capacities are available in WiFi-only model as well as WiFi/3G model.
additionally, for a limited only, Goldgenie is offering a 15% discount code when purchasing the Gold iPad 2 range (discount code: db4412). prices for the Goldgenie Gold iPad 2 starts from £1,386 (about US$2,266) and are available now on Goldgenie web store.

(credit: Goldgenie) (from L-R) Gold, Platinum and Rose Gold