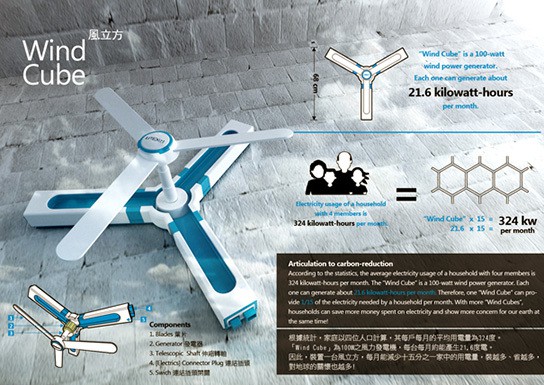 (image credit: Liao-Hsun Chen / Wen-Chih Chang)
just imagine being able to harness the power of the wind – courtesy of Mother Nature – and converts them into useable electricity in your own home. you don't need a 300 feet juggernaut wind turbine to do that, all you need is Wind Cube – a concept free power generator for your very own home. Wind Cube is an award winning design by designers Liao-Hsun Chen and Wen-Chih Chang which sought to make wind generated power available to common households.
according to the designers, each Wind Cube – which looks suspiciously like a ceiling fan – can generate about 21.6 kilowatt-hours of electricity per month. an array of the Wind Cubes could be deployed to generate more electricity. the designers projected a family of four uses 324 kilowatt-hours of electricity per month, thus, theoretically speaking, if you rigged up 15 of those Wind Cubes, you could be getting enough electricity for that family of four for the whole month. i guess it also depends very much on the weather too and it will be damned if you are staying in a largely windless area.
to use the Wind Cubes, all you have to do is to install it on an external wall that's likely to have wind (obviously…), connect it to whatever battery that can store power and hit the switch to activate it. after which, all that's left to do is to wait patiently for the power to accumulate. in case you happen to reside in an area with ultra strong wind or occasional bad weather that may threaten the well-being of the Wind Cubes, the blades can be retracted back safely into its receptacle (which also happens to be its mounting base).
we really hope to see the Wind Cube becomes a reality soon. we are so in need of free power and love the prospect of making our electricity provider go mad.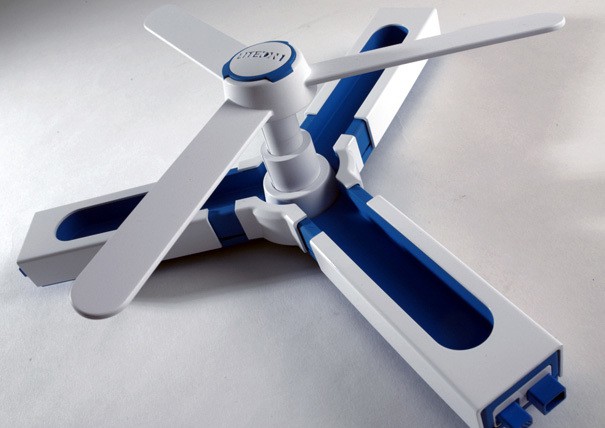 (image credit: Liao-Hsun Chen / Wen-Chih Chang)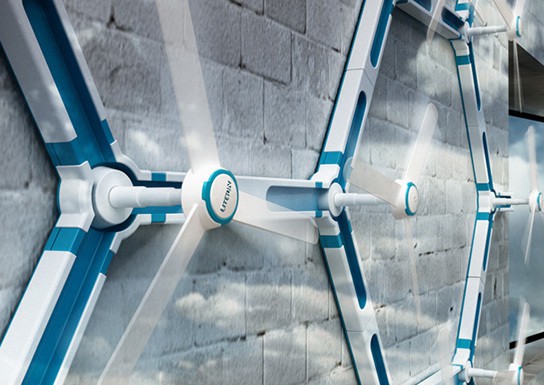 (image credit: Liao-Hsun Chen / Wen-Chih Chang)

(image credit: Liao-Hsun Chen / Wen-Chih Chang)
via Yanko Design