we celebrate the invention of wireless earbuds. why? because have had enough of entanglement with wires and we are sure you do too, especially if you are not into cans. that said, it is always good to know more folks are coming into the market of true wireless earbuds and the latest to do so is HearNotes, who have been named as one of the finalist in the Fundable Crowd2Shelf contest sponsored by Staples Inc. the good news is, HearNotes is now offering you the opportunity to own a pair, which you can do so via a two-month long pre-order campaign at a special price of $219. the wireless earphones is expected to be available early 2015 with a MSRP of $349. what makes HearNotes so special is the wireless connectivity it uses.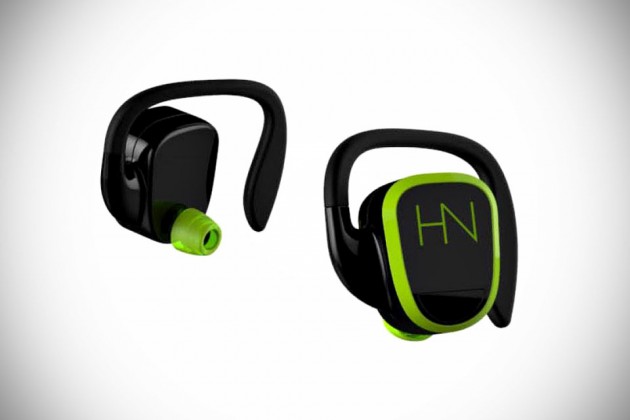 instead of opting for much travelled Bluetooth route, it employs Kleer wireless protocol, a wireless solution that can be found in several high-end audio products. with Kleer, it promised to deliver lossless CD-quality audio that is said to be far superior to Bluetooth. there is caveat though. Kleer is not natively built into any mobile music source and hence it will require a small transmitter to be plugged into your device's 3.5mm headphone jack, though it does not require any pairing. it comes with sleek, portable charging case that inductively charges all three pieces, namely the pair of earbuds and the transmitter, and also doubles as a protective carrying case for the components. it has a range of up to 50 feet and while playtime for the in-built battery is not provided, it is said that Kleer technology is a battery power sipper as compared to Bluetooth option.
however, the real attraction is probably the promised of extremely low latency, which is something Bluetooth transmission is struggling to cope with and apparently, Kleer technology is not susceptible to signal interference (at least for now) like the Bluetooth counterpart. there is only one thing that bugs us and that's the design. comparatively, it is not as aesthetically stunning as the few that we have seen. other than that, what it promises sound pretty exciting. if you are convinced by what HearNotes wireless earphones has to offer, you can pre-order yours from Fundable. the first 500 units go for $219, while subsequent 2,000 and 7,500 units cost $249 and $279, respectively. we are not sure how Fundable works, but anyway, the response so far has been lukewarm – made even tougher by the San Francisco startup's lofty goal of $250,000.