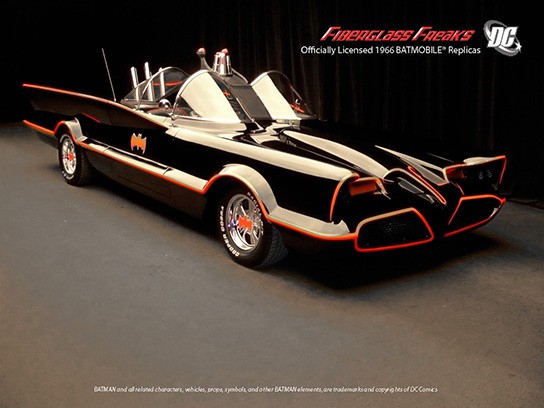 (photo credit: buybatparts.com) Replica Batmobile | US$150,000 | buybatparts.com
your eyes isn't playing tricks on you and you heard it right, its a real road-worthy replica 60's Batmobile. following up to the recent featured article on Bob Dullam's home-built Batmobile Tumbler – which money can't buy, we present something that's not beyond bat-fans' reach – that's if you have US$150K to spare.
this is an DC Comics officially licensed replica, custom built batmobile by Fiberglass Freaks. this replica Batmobile is a REAL moving car and can be bought with REAL money. this Batmobile has a brand new GM350 crate engine (or a choice of F460 rebuilt motor), a shiny fiber glass body and loaded with all-so-important bad.. i mean 'bat' gadgets including a working rocket exhaust flamethrower, flashing red beacon, opening roll top dashboard doors, automatic BatBeam antenna grid and a glowing Detect-a-Scope radar screen.
let me reiterate: this a completely fully functional, road-worthy car which has gauges, push-button ignition, working lights and a dash-mounted DVD player (not so 60s on this part) with high-end speaker system. and if that isn't enough for you, bat-fans would be thrilled to know that there are actuators built-in to open the hood and trunk. futuristic eh? this awesome automobile is complete built-to-order car and it will take 6-months from the initial pre-ordering to complete and only eight will be built per year. so hurry if you want one.
seriously, with US$150K, you can almost any car but getting this batmobile is like having a piece of the classic. go ahead grab this and drive this to the next comic convention. i am certain you will be center of all attractions. now all you need is a 60's batman suit, and for added realism, get a friend to be your superhero sidekick, Robin.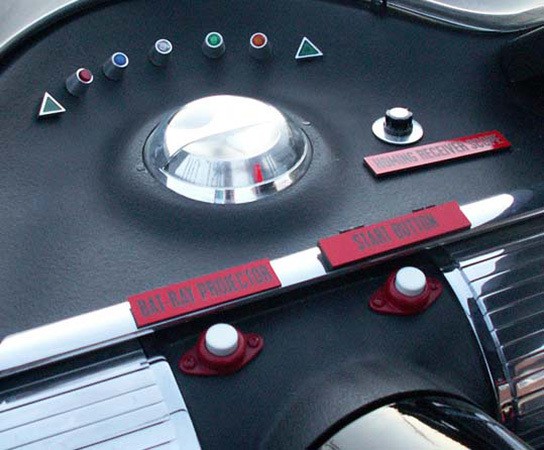 (photo credit: buybatparts.com)