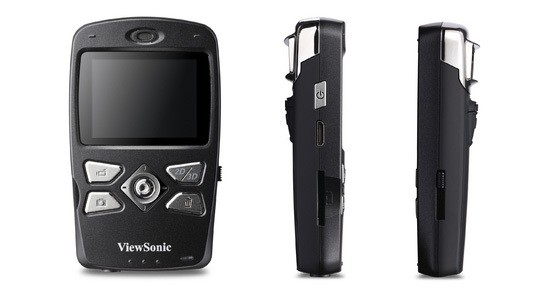 (photo credit: viewsonic.com) ViewSonic 3DV5 HD Camcorder | US$180 | www.viewsonic.com
looks like consumer 3D recording/imaging is being realized faster then we thought. recently, ViewSonic announced the ViewSonic 3DV5 3D HD Camcorder capable of taking 3D HD videos and 3D still images which you can preview instantly (in 3D) on its 2.4 inch 3D TFT LCD screen, without the need for special 3D glasses.
this palm-size camcorder has a pair of lenses with 5 Megapixel sensors (CMOS) built-in. the 3DV5 comes embedded with ArcSoft Wizard and a pair of red/cyan 3D glasses, which allows you to enjoy 3D videos and images on a standard PC or notebook. the 3DV5 is also capable of 2D recordings/images and HD is the form of 720p videos at 30 frames per second (fps).
the 3DV5 has an internal 10MB storage and an SD/SDHC card slot that supports 256MB up to 32GB SDHC, which should give you ample storage for your HD recordings/shots. the lenses are fixed focus lens but comes with 4X digital zoom. powering the camcorder is a NP60 1200mA Li-ion rechargeable battery. there's no formal indication of it's battery expected performance though.
other features include mini HDMI and a USB 2.0 port for connectivity, a standard tripod mount socket, built-in stereo microphone and one 0.5W speaker built-in. the camcorder measures 71mm x 120mm x 29mm and weighs in at 120 grams. given the size which is much larger than an iPhone 4, the 3DV5 is consider pretty light (just give you a rough idea, iPhone 4 weighs about 140 grams).
with all the hype about 3D, sometimes i wonder if we really need 3D at all? but then again, at US$180, its certainly a budget way to take a dip into the world of 3D and once there, if you find that 3D isn't your cup of tea, the 3DV5 can always take 2D videos and images.