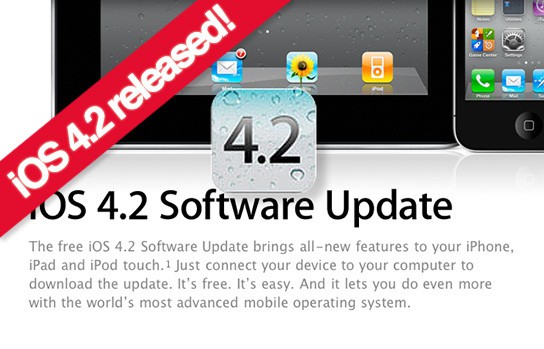 (image credit: Apple) iOS 4.2 | US$free | www.apple.com
the wait is finally over. Apple has released the iOS 4.2 Software Update on the November 22nd. the OS finally sees its release after a short delay due to reported issue with WiFi on the iOS Software Update. prior to this, Apple has released the iOS 4.2 GM or the Gold Master edition which requires manual updating. no one will be more thrilled than iPad users. lets see a show of hands: which iPad users are not thrilled? please raise your hands…
iOS 4.2 brings features such as folders, multitasking, Game Center and unified inbox, features previously enjoyed by iPhone and iPod Touch users, to iPad. the iOS 4.2 Software Update also adds the much anticipated AirPrint and AirPlay to all compatible devices. well, maybe not as much anticipation for Air Play.
Air Print allows user to wirelessly print email, photos, web pages and documents directly from their iOS devices without the need for software download or drivers. Air Play lets user stream digital media wirelessly from their iOS devices to their AirPlay-enabled speakers. cool. finally i have some use for my AirPort Express, which has been lying around.
there's another feature, dubbed "Find My iPhone, iPad or iPod Touch", which enables users to locate their missing device and protect its data. Apple stated that this feature is "now free on any iPhone 4, iPad or fourth-generation iPod Touch running iOS 4.2." this feature, once set-up, user can find their lost device on a map, display a message on its screen, remotely set a passcode lock and initiate a remote wipe to delete the data on the lost device. iPhone 4 was specifically singled out, therefore i suppose this feature won't be available for 3G and 3GS users.
iOS 4.2 is compatible with iPhone 3G and above, second-generation to fourth-generation iPod Touch and of course, the iPad. as always, some of the features of iOS 4.2 may not be available to older generation devices. basic requirement for updating to iOS 4.2 is iTunes 10.1. i am super thrilled and i am making my updates as we speaks.