Finland independent handset maker and innovator Jolla is back with its second product, a tablet simply called Jolla Tablet. The tablet is a logical progression of this growing independent outfit and pride itself as being the world's first people powered tablet. Just tell the firm what you want and it will be put on the table to be voted. Features that get voted will be prioritized for development by Jolla Sailors (that's what they call their development team, btw). Powered by the outfit's second generation OS, Sailfish OS 2.0, Jolla Tablet is, like the firm's phone, completely free from corporate tyranny and manipulation, and promised to value your privacy.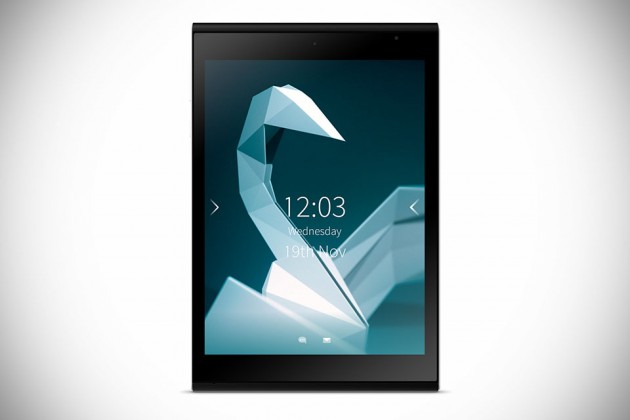 While the hardware and software does not tout bulletproof security, it does have a couple of important promises, including never selling or sharing your data with anyone, and no back doors or shady third parties stuff that will monitor your activity. If the recent events are of any indication of the state of our privacy, those promises are perhaps lovely proposition that any everyday users can ask for. Equally impressive is the design, which we don't even need to begin to describe how pretty it looks, but in case you haven't noticed, the entire front of the tablet is void of buttons, offering the extra high-tech, sleek look. Thanks to the Sailfish OS, everything you need to execute is through gestures, including multitasking and switching between apps. And best of all, Android users can still enjoy their favorite Android apps, downloadable from Jolla Store or other Android marketplaces, in addition to Sailfish's own native apps.
On the spec-sheet, the Jolla tablet is certainly no slouch either and is most certainly on par with today's top performer of this class. Under the skin, it is powered by a 64-bit quad-core Intel chip clocked at 1.8GHz, supported by 2GB of RAM. It has 32GB storage and microSD card slot for expansion if more space is required. The button-less front is taken up by a 7.85-inch IPS display with 2,048 x 1,536 resolution, packing 330ppi, while imaging is undertook by a 5MP main camera and a 2MP front-facing shooter. The only it is lacking as compared to the current 'top performers' is battery; it has just 4,300 mAh to its name. Jolla Tablet comes as a WiFi model and will be shipping in May 2015 to limited regions. You can pre-order yours from Indiegogo for a special discounted price of $209. Eventual retail price is expected to be $249 and so you're getting some saving over there. But don't procrastinate for too long cos' only 1,000 units are priced as such (of which, over 500 have already been spoken for) and also, the campaign has just 19 days left.