If you think the post title sounds like a plot pulled from pages of an X-Men movie, well, you're almost right. The one-off KIA Sorento you see here was produced in collaboration with Twentieth Century Fox Home Entertainment to promote X-Men: Days of Future Past on Blu-ray, DVD and Digital HD and also to mark KIA's sponsorship of the Australian Open 2015. No prize for guessing which X-Men was behind the inspiration of this KIA 'X-Men' Sorento, oh wait, actually there is! In fact KIA Motors is inviting fans of the X-Men franchise and KIA Motors, or basically anyone who love winning stuff, to guess which X-Men character has inspired the car's distinctive design. Correct entries will stand a chance to win a copy of X-Men: Days of Future Past on DVD.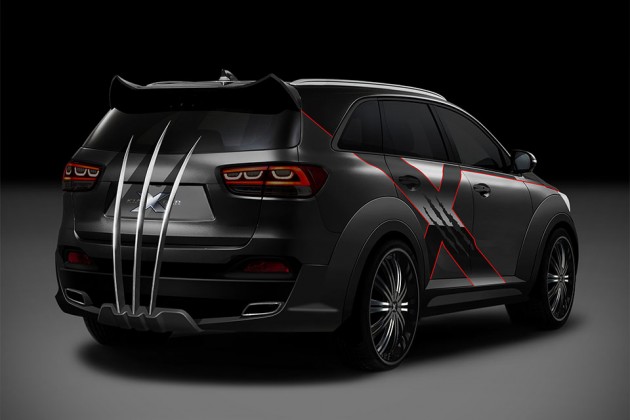 Well, considering the scale of this marketing campaign, we're surprised that the prize isn't in Blu-ray. Just saying… Anywho, KIA and Twentieth Century Fox have gone to great length for this promotion and will be releasing a video via its Facebook page and YouTube channel sometime in mid-December, showing Grand Slam Champion and 'Superhuman' KIA brand ambassador Rafael Nadal 'teaming up' with X-Men and taking on the evil robotic antagonists, Sentinels, which are apparently a threat to, you guess it, the Australian Open 2015. Naturally, Nadal and X-Men (probably played by some actors other then the actual actors) will be aided by this one-off 'KIA X-Car'. There is little to detail about the car except that its the all-new Sorento which you may have already know.
Asethetically, 'X-Car' sports a glossy black paint job (we're surprise it isn't matte, actually) with custom X-Men graphics (complete with faux claw tears) and a reworked front and rear featuring everyone's favorite X-Men, Wolverine's claws – which are probably not made of the fictional adamantium metal alloys. The front also get a slightly different grill with a subtle 'X' in the center, just under the KIA emblem. The Kia X-Car will be on display at Melbourne Park throughout the duration of the Australian Open, which will be happening between January 19 and February 1, after which, the car will set to grace various international motor shows. In the mean time, you can hit up Kia Motors Facebook page and make your guess for a chance to win the aforementioned DVD.