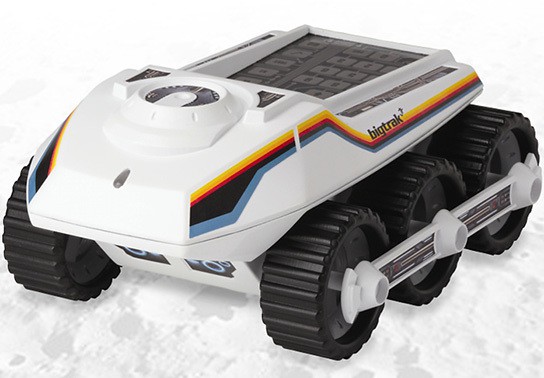 (image credit: FireBox) BigTrak Jr. Programmable Rover | £29.99 | /www.bigtrakjr.com
while automobiles of the yesteryear are making a come back with modern technologies, toys are not missing out the resurrection party either. now get ready for BigTrak Junior – a compact (almost) palm-size brother of the original BigTrak from the 80s. yes, there are more to 80s than just shoulder pads. when personal computer was just at its infancy (in the 80s), a toy with the ability to be programed was a big thing and i bet it still stands true today. take it as a budget alternative to LEGO Mindstorms.
the BigTrak Jr has inherited the programming ability of the senior BigTrak plus some functions from the 21st century thrown in for good measures. to operate, simply punched in the desired commands, hit 'GO' and witness the BigTrak executes the sequence autonomously. this six-wheeler space rover can travel forwards, backwards, turn left and right. you can even program it to fire its 'photo' cannon while its executing its tour of duty.


(image credit: FireBox)
there are a couple of 21st century technologies thrown in such as the memory save function which allows you to write and save the program for future use. there is also an unique 'active' accessory port allowing it to utilize a number of add-on accessories (coming soon in 2011) to carry out its mission. some of the planned accessories include webcam and foam rocket launcher. sounds like quite a load of fun. soon BigTrak can do more than just patrolling round the supplied 'moon crater' obstacles but 'transform' into either a reconnaissance vehicle or an mobile artillery unit.
i would love to see a BigTrak as Radio Control vehicle plus the webcam and foam rocket launching ability. how about a gyroscope built-in to enable firing on the move? nah… i am just kidding but it will be good to have, isn't it?