(image credit: Apple) Apple iPad 2 | from US$499.00 | www.apple.com
after the all the speculations about the features of the next iPad, the iPad 2 was announced during the Apple Special Event on the March 2nd by Steve Jobs himself. surprise. surprise. surprise. the iPad 2 now sports a dual-core A5 processor and touted to possess up to 9x graphics performance. on contrary to the speculation, the iPad 2 does not have an SD or micro SD slot. which comes as a no surprise because it is an Apple after all. pro-retina display users will be disappointed as iPad 2 still uses the same 9.7-inch LED-backlit multi-touch display with IPS (in-plane switching), but no mention of which grade of IPS was employed. display resolution remains at 1024 by 768 pixel at 132 pixel per inch (ppi).
perhaps the most significant improvement over its predecessor is the faster processor and the inclusion of two cameras (front and back). the back camera boost video recording in 720p (up to 30 frames per second) with audio and its capable of taking still images with up to 5x digital zoom. Apple has incorporate what they called "advanced backside illumination sensor" in the back camera which allows capturing "great moments even in low light." the upfront is a VGA camera capable of VGA video recording up to 30 frames per second and VGA still images. included with the camera functions are photo and video geotagging but that's only available over WiFi. no mention of it being over 3G, though. the iPad 2 now also sports a three-axis gyroscope along with the accelerometer and ambient light sensor.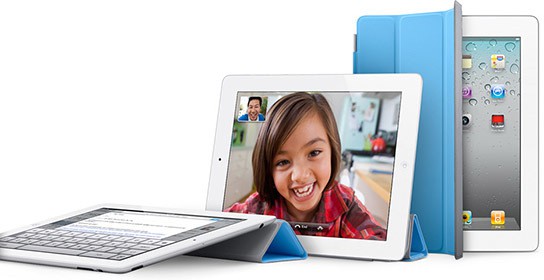 (image credit: Apple) along with iPad 2, Apple also introduced Smart Cover, an accessory for the new iPad 2
iPad 2 now supports video mirroring and video out for up to 1080p with the optional Apple Digital AV Adapter or Apple VGA Adapter and audio now supports Dolby Digital 5.1 surround sound pass-through, also via the optional Apple Digital AV Adapter. on the aesthetic aspect, the highly annoying hump back is gone and now the iPad 2 sports a flat aluminum backing and slightly curve sides, which kind of reminds us of the original iPhone. the iPad 2 is a tad smaller in terms of height and width but has a significantly thinner profile of just 8.8 mm (original iPad was 13.4 mm thick) and a tad lighter than its predecessor.
iPad 2 is available is the same connectivity-storage combo as the original iPad. it will come in WiFi only model and the WiFi + 3G model, with storage capacity option of 16 GB, 32 GB or 64 GB. some critics may not see the new iPad 2 as a huge improvement over the original iPad but we certainly love the fact that humpback its gone and it has two color – black or white – to choose from. iPad 2 will be available next week in US with a retail price starting from $499.