The Jacob & Co. Rasputin Tourbillon looked like a regular, luxury watch set with ridiculous numbers of diamonds. But it has a feature that will guarantee to invite giggles or stares of disbelief.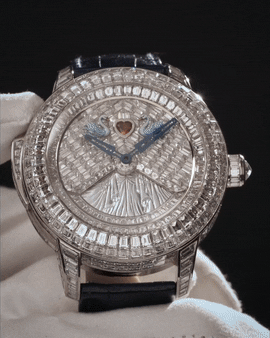 The only section that is not composed of 18-carat gold and covered in diamonds has a hand-engraved motif of curtains that will open – if you so choose to – to reveal a hand-painted erotic scene.
For the curious minds, the erotic scene is of a man and woman copulating, with the man penetrating the fair lady from behind. What did I tell you? It is sure to turn heads, isn't it? Thankfully, if only you choose to.
A lever (also set with diamonds) protrudes on the left-hand side of the case that, when fully pressed, triggers an audible indication of the time, provided by the minute repeater function of the JCAM27 manually wound movement.
If the slider is pressed only lightly, three baguette rubies set beneath it are revealed. Releasing the slider and pressing it again fully will reveal the real treasure of the timepiece: the minute repeater chimes and the two swans in the upper half of the dial move, and then the curtains open to reveal the said erotic scene. No, I don't believe erotic moaning is not included.
Other highlights include a one-minute flying tourbillon movement visible through the caseback, a minute repeater chimed by Jaquemart Swans framing a heart-shaped ruby, 290 components, 38 jewels, and 50 hours of power reserve.
You can learn more about this super cool erotica timepiece HERE. As for the price, it sells for around US$2.5 million.
Images: Jacob & Co.