Last December McLaren Applied revealed the first electric scooter called LAVOIE Series 1 from its newly set up premium mobility brand, LAVOIE. Fast forward to August 2023, we have received more words on this luxe, performance scooter, including how you can purchase it.
Billed as a category-redefining e-scooter, the LAVOIE Series 1 standout feature is the patent-pending FlowfoldTM system which, at the press of a button, automatically folds the Series 1 into an ultra-compact form for easy carrying and space-saving storage.
The tech behind the FlowfoldTM system, which is inspired by motorsport suspension, allows the Series 1 to have a longer and wider deck, and taller, wider handlebars for a smooth, stable, "automotive-like ride". Moreover, the FlowfoldTM system also makes kickstands a thing of the past.
This innovative tech allows the scooter to go into Park Mode in which it lowers the wide belly of the scooter to the ground to serve as a stable stand and thus negating the need for a traditional kickstand.
The scooter features a magnesium alloy monocoque chassis and it will have a significant road presence at night thanks to the abundance of lights, including a light halo, presence lights, rear brakes, turn indicators, and rider illumination LEDs.
The LAVOIE Series 1 is powered by a custom motor with a peak output of 900 W and produces 30 Nm (22 lb-ft) of torque. It has a top speed of 40 km/h or 25 mph. Both the power and speed can be limited via the LAVOIE app to comply with local regulations.
The vehicle is outfitted with a 468 Wh Samsung cell that affords up to 40 km/25 miles on a single charge, or a 702 Wh Samsung cell, in the case of Series 1 MAX, that offers up to 60 km/40 miles range in between charges. LAVOIE Series 1 offers three modes of riding.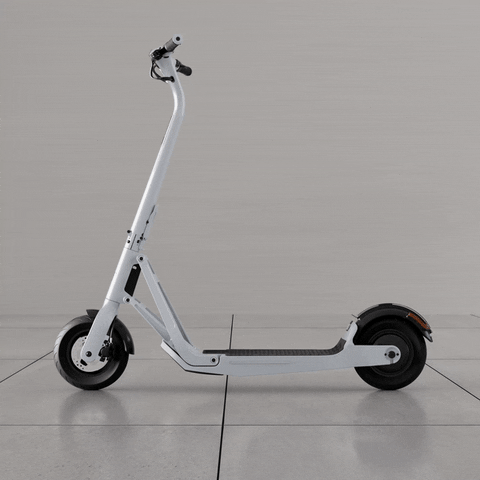 Mode 1 is a slower eco option, Mode 2 offers efficient cruising, while Mode 3 unleashes the ultimate power. Riders will be able to fine-tune the ride modes using the companion app.
As far as on-vehicle control goes, basic controls like horn, turn signals, and braking – including engaging the regenerative braking, switching ride modes, throttle, and speed control, are all within the thumb's reach from the left or right handle.
In between the handles is an integrated TFT display that offers at-a-glance information including power consumption, time traveled, and more.
Braking is afforded by the front hydraulic disc brake and it also boasts a KERS system to boost range and efficiency.
This beautiful two-wheeler is, of course, IP rates (IP57 for electronics and IP56 for vehicles) and rolls on 10", 2.5" wide pneumatic reinforced tires.
The McLaren Applied's LAVOIE Series 1 Electric Scooter is available for pre-order now for US$1,990 for the Series 1 and US$2,330 for the Series 1 MAX.
A free supercharger is included for pre-orders made by August 31, 2023.
Images: LAVOIE.