now that Chrome device has pretty much established itself in the mobile computing segment, namely laptop (or notebook, if you prefer), it is ready to move into a new territory where Chrome OS could call itself home and that's the desktop, or more specifically, the All-In-One computer, kicking off with the LG Chromebase All-In-One Computer (22CV241). powered by Google Chrome OS (naturally), the LG Chromebase All-In-One Computer will make its public debut at the 2014 International CES next month. features to expect include 21.5-inch Full HD IPS display with 178-degree viewing angle, fourth-generation Intel Celeron processor with 2GB of system RAM, 16GB ISSD for internal storage, 1.3MP HD 720p webcam and built-in microphone for video chat, built-in 5W speakers, and the usual I/Os that comprises of a pair USB 2.0 ports, USB 3.0 port, HDMI input and LAN connectivity.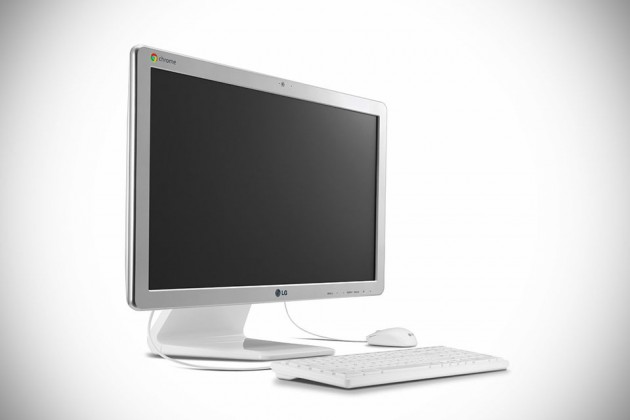 there was no mention of Bluetooth or WiFi, but we are going to assume they do have them. seriously, we cannot imagine any of today's computer not having those (we also assume by LAN, they do mean Ethernet and WiFi, but we could be wrong). that said, details remain scant now, but if you know Chrome OS, you will know what to expect of on the software side, you know, access to the usual suite of Google products that comprises of Gmail, Drive, Search, Maps, YouTube, Play or Google+ Hangouts. and as always, software update is automatic. so basically, this is the computer that wants you to focus on productivity and meddling with the technicals. and oh, it will of course be treated to a slew of web apps, both free and paid, available on Chrome store. further details should come to light next month, including (maybe) the pricing and availability – both of which are information missing at the time of this writing.
UPDATE [May 08, 2014; 06:50AM PST] the LG Chromebase All-In-One Computer (22CV241) will be available from Amazon, Newegg, Fry's Electronics, Micro Center and Tiger Direct beginning May 26. for those who can't wait, you can pre-order yours from Amazon for $349.99.