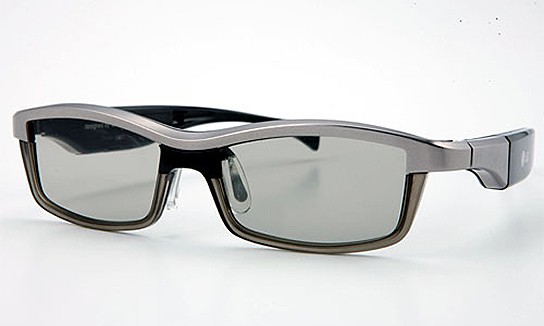 (image credit: LG)
with the recent consumer 3D development, the era of red/blue 3D glasses that we know of when watching Jaws 3D (Universal Pictures, 1983) has gone past. even then, 3D glasses remain awkward, bulky and uncomfortable to wear. granted, it is better than those paper – red/blue glasses. it will be just fine if you're going to wear once in a while when hitting the big screens but what if you will be wearing at home whenever you want to? than i supposed the look and comfort of the 3D eyewear might matters to you or at least looks presentable when you have friends over for a home 3D movie screening marathon.
that's what LG has in sight – to have users feeling and looking good wearing their 3D glasses. apparently LG figured that the current 3D eyewear is totally uninspiring (read: ugly) which turns off consumers. with that in mind, LG is partnering with Alain Mikli International, a French design firm with over 30 years of experience in manufacturing glasses, to introduce a line of premium 3D glasses (note: not just one lonesome pair). some of the features will include special nose pad to ensure snug fit, spring hinged arms with extended tips and most importantly, an optimal weight ratio. weight of the eyewear is really an issue often heard after a 3D movie screening.
the 3D glasses will be showcased in CES 2011 and due for launch there after. seriously, regardless what the fashion is, people just don't fancy wearing glasses. there is a reason why there are contact lenses and Lasik. if 3D can be view without glasses, that would be perfect.
via CRAVE