We still see Mazda RX-8s and even FC and FD series RX-7s running around on the streets and so, to us rotary engine is far from dead – even though in reality, the last of rotary-powered RX-8 rolled off the line three years ago. While some may mourn over the death of this incredible motor, Mazda decided it does not have to end this way. The Japanese automaker has unveiled a new rotary-power Mazda RX-VISION, a front-engine, rear-wheel drive sports car concept, at the Tokyo Motor Show today. The car, which bears the KODO design-based proportions, sports a flowing form that has an uncanny resemblance to a certain M brand from Italy.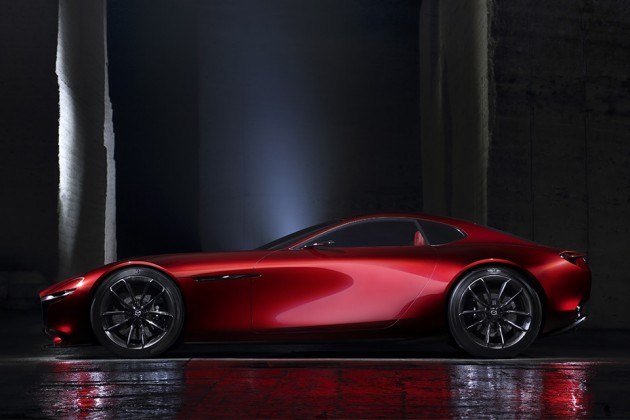 That's not to say the RX-VISION is not a beauty; it is. In fact, I couldn't stop admiring the vehicle and wished I was Ariake district, Tokyo Bay to see it in person. I have always loved rotary engine, but it is as awesome as it is flawed. Flawed because of its inherent lack of respect for fuel economy. Yes. Those are strong words, but any rotary-powered car owner can testify that while rotary motor yields immense power out of a small capacity motor, it is a crazy-ass gas guzzler.
However, the new R will be different; it will run on the next-generation SKYACTIV-R rotary engine and hopefully, this rotary iteration will share Mazda SKYACTIV-R Technology's traits like increase fuel efficiency and engine output. If that can be achieved, I am sure rotary engine will live a long and prosper life. Keep going for a few more look of the RX-VISION.