If your sole use of a tablet is for watching movies, then you ought to have a slate with a huge display; I mean like really, really big, otherwise you will be comprising on details for mobility and/or portability. So, where on Earth can you get such a big-ass tablet that could put a 17-inch laptop to shame? To be honest, we did not dig deep enough, but we do know Samsung has one that broke the diagonal inch barrier, coming in at an unreal 18.4". Yup, you heard that right. Eighteen point four inches. As crazy as might sound, the Galaxy View, as it is called, is the South Korean electronics giant's idea of "unprecedented mobile entertainment experience."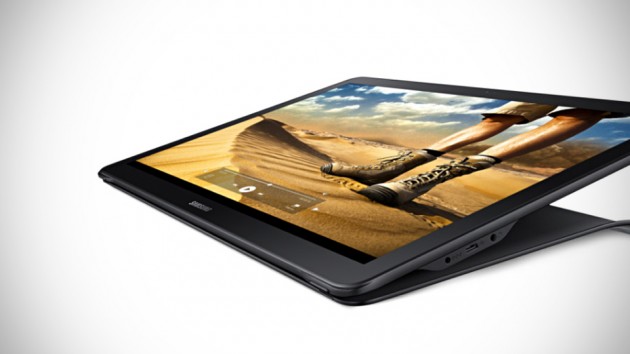 The size wins hands down – there's no doubt about it, and thanks to the 1080p display, you can enjoy your favorite flicks and shows streamed from Netflix, Hulu, CNN, Youtube and more without straining your eyes while a set of high quality stereo speaker provides 8W of audio reproduction, consummating Samsung's vision of "unprecedented mobile entertainment experience." Despite its size, it doesn't weight a ton; it tips the scale at a 'reasonable' 2.65 kg. Still, you probably won't want to lug it along on your train rides (it's nearly half a meter long!), or watch a movie during commute. I am sure you will need a license for 'public broadcasting', because watching on a display that humongous is almost like a public broadcasting, doesn't it?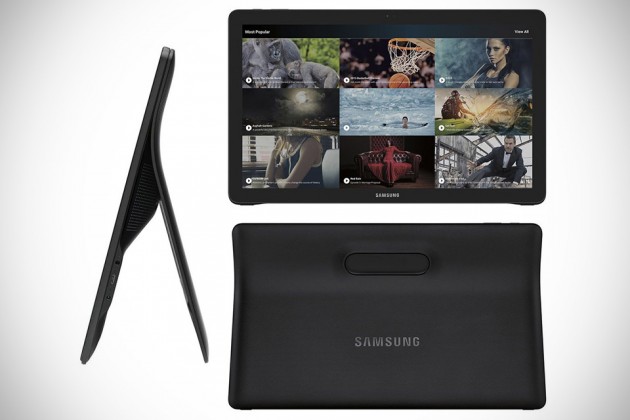 Galaxy View's clockwork is driven an unnamed 1.6GHz octacore processor, backed by 2GB of RAM and will be offered in a choice of 32 or 64GB internal storage capacity – expandable via microSD card. It also gets a 2.1MP front-facing camera, Bluetooth 4.1, wireless 802.11 ac, LTE radio (uses NanoSIM), a 5,700 mAh for up to 8 hours of video playback, an integrated versatile 2-way stand and it is of course, powered by Android OS. No word on the availably, nor was the pricing advised. But at 18.4", this gadget will likely not show any mercy to your wallet.