so is it a laptop? well, if you slap the Microsoft Surface Pro 3 with an accessory keyboard, it sure looks like one, which kind of further blurs the line between between a tablet and a laptop. instead of the rumored smaller display Surface that we previously read, Microsoft turns out the Surface Pro 3 which is a big-ass 12-inch slate, boasting 2,160 x 1,440 resolution that should please all pixel-obsessed users. not only it is huge in size, it is pretty stunning in profile and weight: it measures just 9.1mm (0.36 inches) thin (considering some phones also has this thickness) and tips the scale at just 800g (1.76 lbs). not bad for something this big. under the hood is a 4th generation Intel Core processor (Core i3, Core i5 and Core i7 options), up to a whopping 512GB of internal storage and 4 or 8GB of RAM. it also sports a full-size USB 3.0 port, a mini DisplayPort, as well as microSD card slot for expandable storage.
also packed into this futuristic mobile computing solution is a battery pack that gives up to 9 hours of usage. keeping in mind of its thinness, there is also a specially developed fan built into it which Microsoft claims that is 30 percent more efficient than previous solutions and on top of that, it still has a multi-position kickstand that offers zero to 150 degrees angle of adjustment integrated into it. it sure sounds like a lot things are going on there, which makes its 9.1mm thickness an even more amazing feat, to say the least. along with the announcement of the Surface Pro 3, Microsoft also introduces a new click-in keyboard, available in five fancy colors, boasting 63 percent bigger trackpad and there will also be a Surface Docking Station coming in the next few months too. the Surface Pro 3 is a slate, but is also a full-fledge PC that's capable of running all Windows apps including Office and desktop apps, and just like the desktop counterparts, multitasking and multiple user accounts are part of the norm.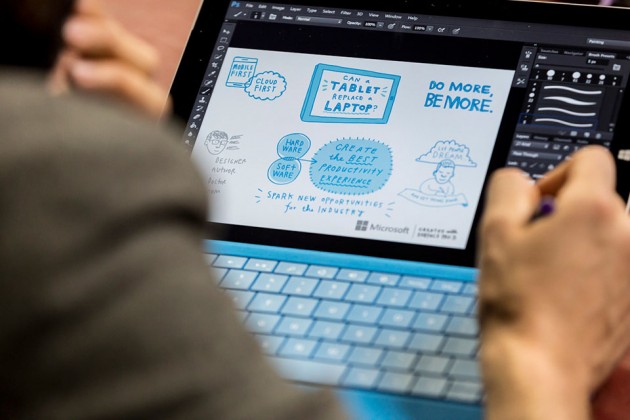 the package comes standard with a newly designed Surface Pen that allows for one-click access to the OneNote application, so you can start scribbling away like you would on traditional pen and paper. of course, the pen also works with a variety of apps, including the upcoming Photoshop CC, which also happens to be optimized for Surface Pro 3. if you are getting all pumped up by the news of the Microsoft Surface Pro 3, you will be glad to know that Microsoft is taking in pre-order as we speak. prices start at $799 for the 64GB Intel i3 model and runs up to a cool $1,949 for one with 512GB SSD and an Intel i7 processor. the Type Cover 2 will set up back another $129.99 a pop.