When you think of Karaoke system, it usually conjures up an image of expensive, multi-piece equipment, or least an equipment that seems to be riddled with seemingly complex buttons and dials, but that's not the case with Moment Soundbar. Billed as a karaoke-redefining sound bar. Moment Soundbar is, well, essentially a sound bar, which measures a space-saving 16 inches long. What's buried under the hood is not being detailed, but according to Moment Sound, the outfit behind this innovative piece of Karaoke rig, it promised to delivery sonic quality comparable, if not better, over many 40" long soundbars in the market today.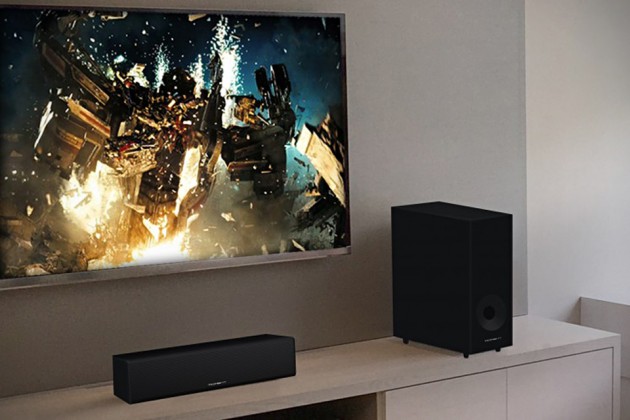 Unlike traditional Karaoke system, which are plagued by limited song availability and/or outdated songs, Moment Soundbar plays well with any file, app, and even online streaming site on your smart devices, enabling you to croon to your heart's content with apps like Smule, YouTube, Spotify, Apple Music, Google Play Music, Pandora – just to name a few. It works wirelessly through Bluetooth aptX technology to enable CD-quality audio streaming from the smart device of your choice and it has an auxiliary port and optical audio port for other analog or digital devices.
Adding to the allure is the simplicity of setup and operation. There's no complex buttons and dials; it's just the soundbar, a wireless subwoofer and a wireless microphone, which will automatically pairs when they are in range. No cable, no mess and when it comes to operation, all you need is the free companion app, which opens up access to a full spectrum of equalizer, allowing you to fine tune treble, bass, volume and even echo levels of the paired microphones.
The application of Moment Soundbar is, of course, not limited to Karaoke. With DTS TruSurround, it is also good for movies and gaming too, and being this small, it will also suit your desktop PC setup too. As mentioned, details of the innards are unavailable at this time and therefore, there's no telling of the audio quality. The Moment Soundbar is set to hit up Indiegogo on September 22, where interested folks can pre-order it for as low as $199.