Mondo has many pop culture properties in its pocket. Among them is Godzilla which it has a bunch of apparels and an intriguing puzzle. But Mondo is not onboard the hype train powered by the Godzilla vs. Kong. Well, kind of not onboard, but still do.
Mondo did not release merch based on the new Gojira flick; instead it has offered up an 18-inch Premium Scale Statue of Godzilla from 1989's Godzilla vs. Biollante movie.
Perhaps, the license fee for the new movie is a bit much? And the 1989's movie is the closest "versus" title from the long list of King of the Monsters' movie is the closest? I don't know. Perhaps.
Whatever it is, earlier versions of the radioactive beast is my cuppa and so am totally cool about it. But the thing is, I can't afford to shell out $350 for it, let alone $375 for the limited edition which has Gojira spewing atomic breath.
The Godzilla 89 Premium Scale Statue was sculpted by Mark Newman and Hector Are (whom also painted it) and designed by Eric Siebenaler. There is not much features to talk about, after all, it is a statue.
It does, however, gets an interchangeable mouth for displaying it with the beast's mouth open or closed. The Limited Edition version has an additional switch-out Heat Ray aka atomic breath and a battle-damaged arm, wounds inflicted by Biollante.
Whichever of the Mondo Godzilla 89 Premium Scale Statue, it looks just as awesome. But what really had me sold was the packaging. Damn. Just check out the box art below. Absolutely amazing! Be sure to hit up Mondo website to have a look if you are interested.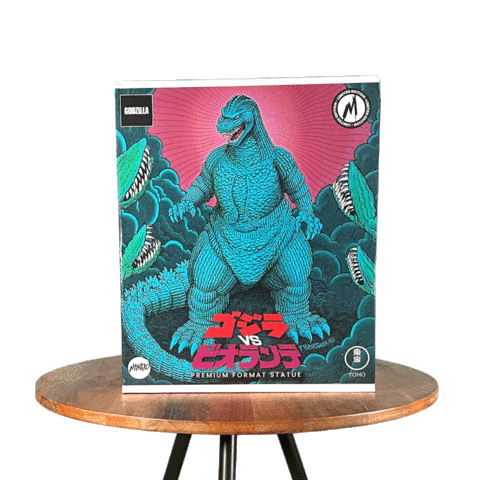 Images: Mondo.