for ten years, NYC-based NOOKA has been turning out fashionable timepieces, but never had a chronograph to its name. well, things are about change as it hits Indiegogo with the company's very first chronograph watch, NOOKRONO. with a design inspired by the Space Race of the 1960s, NOOKRONO takes on a clean, minimalist design approach with large legible dial face that's easy on the eyes. instead of time markers, the watch face is decorated with lines reaching in every direction and adorned with chronograph sub-dials that appear to be floating. from what we can see, the watch does have a distinctive sixties appeal. despite being minimal, the watch stands out with its large 48mm case diameter and has a profile that's 11mm thick. the large watch face is paired to uniformly narrow straps of either soft silicone band or stainless steel band.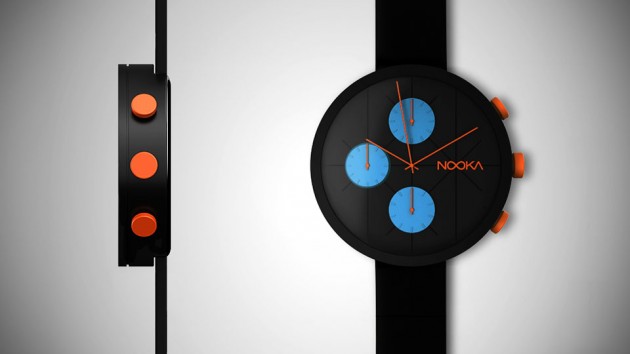 another notable feature is the movement. NOOKA chose to go with an in-house designed custom movement and as for water resistance, it will likely to be between 3 – 5 ATM (or about 30 – 50 meters), but this number will be finalized only upon water testing of the production model. there are four models to choose from during the Indiegogo campaign: Multi, Steel, Night and Lux. the former two are fitted with soft silicone band and clear mineral crystal, while the Night gets a stainless steel band and green sapphire crystal. the Lux model sports a 18K gold-plated face and band, matched to clear sapphire crystal. the NOOKRONO Chronograph will only made in small batches and only available through this Indiegogo campaign.
the Multi and Steel models will have 500 units each, the Night model, 250 units and only 10 units are allotted for the Lux version. you can pre-order NOOKRONO Chronograph Watch from now until September 20. early backers can put down 200 bucks for the Multi and if that runs out, it will cost $250. the Steel goes for the same 250 bucks and the Night has a higher price tag of $500. if gold is what you are after, then be prepared to drop 5 grand for it.