Good news, fans of G1 Transformers. Robosen Robotics, the company that brought G1 Optimus Prime to life with an auto-converting robot toy, has just added another G1 character to the premium self-converting robotic toy line. And the character is none other than the King himself, Grimlock.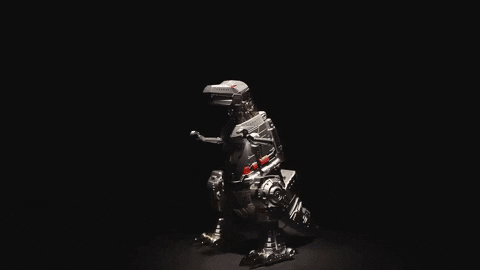 Robosen teamed up with Hasbro to reveal the Transformers Grimlock, the world's first dual-form, bipedal walking robot at San Diego Comic-Con where it will be displayed at Hasbro Pulse Booth #3213. In case anyone's wondering what is a "dual-form, bipedal walking robot", well, it simply means it walks on two in both modes.
While the bot mode still walks in a rather ASIMO manner, the dino mode walking appears to be pretty natural. It is an certainly exciting time for G1 Transformers fans.
The Robosen Transformers Grimlock Auto-Converting Robot – Flagship Collector's Edition, as it is officially called, is equipped with an advanced SoC chip, bolstered by a comprehensive robot OS.
This super high-tech robotic toy further boasts 34 high-precision intelligent servos and an array of 85 microchips that allows it to make seamless conversion almost like what we have seen in the cartoon. Moreover, 6-axis IMU sensors continuously keep the balance in check to ensure unparalleled stability.
The new Transformers Grimlock is not an afterthought product after the success of the auto-converting Optimus Prime, btw. It has been in development since 2016.
It further touts an array of impressive mechanical engineering and advancements in robotics that makes it a must-have interactive robot for both robot enthusiasts and G1 Transformers fans.
Speaking of interactive… the character is brought to life with advanced materials including polymers, nanomaterials, and superalloys, while advanced processing methods such as laser etching and precision carving lend it meticulous attention to detail.
This advanced robotic toy further features over 150 original Generation 1 Transformers audio lies, voiced exclusively for Robosen by Greg Berger, the OG voice of G1 Grimlock. As expected, the authentic sound bits are synchronized with the robot's actions.
You can interact with Grimlock through 42 voice commands, asking the King to walk and perform various actions. In addition, you can use the companion app installed on your phone and control Grimlock via BLE 5.0.
Like Robosen G1 Bumblebee, it also features a MiniTheater mode which can play out scene solo, or with other Robosen Transformers robots in multiplay mode.
And then there is the programming which offers four ways of doing so. There is block-based programming, intelligent manual manipulation, voice programming, and computer-based 3D programming software. The latter is recommended if you want to unlock Grimlock's full potential.
Each Robosen Transformers Grimlock Auto-Converting Robot – Flagship Collector's Edition includes a collector's coin featuring a unique serial number. Plus, it is supplied with accessories closely associated with the King, including the Crown, Galaxial Rocket Launcher, and Energon Sword.
The Robosen Transformers Grimlock Auto-Converting Robot – Flagship Collector's Edition is available to order today through September 30 on Robosen.com and Hasbro Pulse, at a special pre-order price of US$1,499. The eventual retail price when it arrives this Fall is US$1,699.
Images: Robosen.