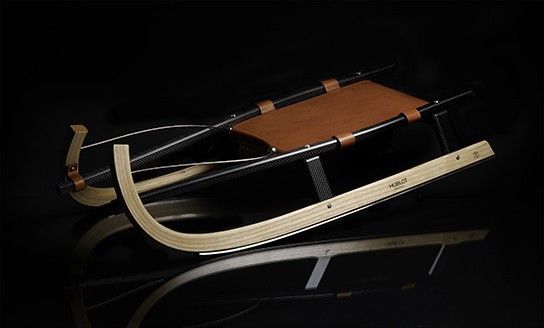 (image credit: Hublot) The Hublot Sledge | US$tbc | www.hublot.com
not contented with just churning out gorgeous and ridiculously expensive time pieces, Hublot has a series of lifestyle products including skis, bikes and now sledges (or Luge). dubbed The Hublot Sledge, it is the result of a collaboration between Hublot and ECAL (Lausanne University of Art and Design) as part of its Masters in Luxury Design and Industry program which Hublot is one of the main sponsors since 2008.
make no mistake, this isn't your ordinary run-of-the-mill sledge. every aspect of the sledge is the result of a fusion of artistic design with cutting-edge technology, thus fulfilling Hublot's philosophy of the "art of fusion." the sledge features an ash wood structure, hand-sewn leather seat, carbon fiber handles and steel runners. the Hublot Sledge is limited to just 10 units worldwide, and it will make its debut (on display) at the Alpine World Ski Championships 2011 in Garmisch Partenkirchen, Bavaria, Germany (February 7 to 20, 2011).
no words on its pricing and availability but when it is from Hublot and it has only 10 pieces worldwide, you know it's going to cost an arm and a leg, or perhaps even more. but for design aficionados (i mean, the rich bunch), this will be the ultimate sledge to get even if sliding down a snow slope isn't your cup of tea. it simply look awesome and if i had one, i won't even let it touch the snow! check out more images of The Hublot Sledge after the jump.
via Born Rich