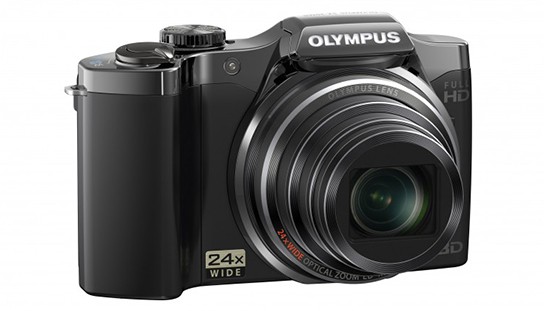 (image credit: Olympus) Olympus SZ-30MR Digital Camera | US$399.00 | www.olympus-global.com
thanks to the dual image processor in the new Olympus SZ-30MR digital camera, you can now shoot 16 megapixel still images while recording a full HD 1080p video at the same time. indeed a good news to avid videographers, as there will be no more of disjointed video footages or fumbling for another digital camera just to capture a still image for that particular moment, which you could have missed entirely, while in the process of fumbling to grab another camera.
Olympus has managed to incorporate the same high-powered super-telephoto capability that normally makes SLR cameras bulk and heavy into this 106.3 x 68.7 x 39.5 mm slim form factor camera. the TruePic III+ dual image processing engines give the camera the ability to record full HD movies and capture full resolution images simultaneously, and that's not all, it also allows user to record a wide shot and a close-ups simultaneously.
the SZ-30MR features a 16 megapixel backlit CMOS sensor which enables super image quality even in low light situations. this CMOS sensors are also suited for high speed image processing which also gives it the ability to carry out High-Speed Continuous Shooting. full HD movies of 1920 x 1080 pixels are encoded in MPEG-4 AVC/H.264 format which also comes with high quality stereo sound.
another feature is the 3D photo shooting function that enables user to capture dynamic 3D photos in any mode, ranging from macro to landscape. while shooting 3D images, both 3D file and regular JPEG files will be recorded. there's even a 'Pet Mode' that will put a smile on any pet lover. in this mode, the camera automatically detects the dogs' and cats' faces, and focus on it before the shooting of the photo. this mode will work great with its Auto Release function, where it will automatically shoot the photo only when the subject turns to face the camera. pet owners will be certain to appreciate this feature immensely.
the SZ-30MR offers an optical zoom of 24X, and incorporates a generous 3-inch High Definition TFT-LCD display with 460,000 dots. storage of the captured images or videos is thru SD/SDHC/SDXC memory cards and it is also Eye-Fi compatible. on the connectivity front, the SZ-30MR features a HDMI out for viewing of video and images on your TV and the USB battery charging enables the camera battery to be recharged from a PC while connected to a PC for downloading of data.
priced at $399, the Olympus SZ-30MR Digital Camera is scheduled to go on sale from late April, 2011.