if you think regular tactical flashlights are not classy enough for you, then the Orbita Watchlight LED Pocket Flashlight might tickles your fancy. flashlights are a dime a dozen, but one with a touch of luxury is not something you see everyday, especially one embedded with genuine watch parts including dials, gears and stuff. in case you are wondering, those are more for aesthetic appeal then functionality and perhaps, a statement to profess your deepest love for timepieces. opulence aside, the Orbita Watchlight is actually quite a capable little fellow.
at the heart of this polyester-wrapped, carbon fiber and stainless steel construction flashlight (handcrafted, no less) are nine forward-facing LEDs, a single high-power CREE emitter capable of throwing out 350 lumens of lights for up to several hundred feet, eight LEDs circling the side for peripheral lighting and a microprocessor to control the myriad of lighting options. we have seen our fair share of flashlights, but this really takes the cake when it comes to lighting modes. the forward-facing light offers four lighting modes (one then a typical tactical flashlight) including a high power searchlight beam, a softer beam for reading, an intense flashing defense strobe light for warding off intruders and an international Morse code S.O.S. flashing signal.
the peripheral lights provide yet another two modes: a lantern mode as light duty working lighting and a beacon mode where two LEDs will flash sequentially in a 360-degree circle for position marking. the peripheral lighting is a juice sipper with the former providing about 120 hours of usage, while the latter offers up to 150 hours of battery life. topping the versatile light functionality is an IP54 rating for resistance against dust and water – making this flashlight a perfect example of rugged luxury product, which we dare say is far and few between in today's market.
for $495, the Orbita Watchlight LED Pocket Flashlight can be yours, along with a lacquered wood gift box, an Italian leather holster and lanyard, a 110VAC battery charger, a spare rechargeable lithium-ion battery, and a stainless steel lantern base to keep the flashlight upright for lantern duties.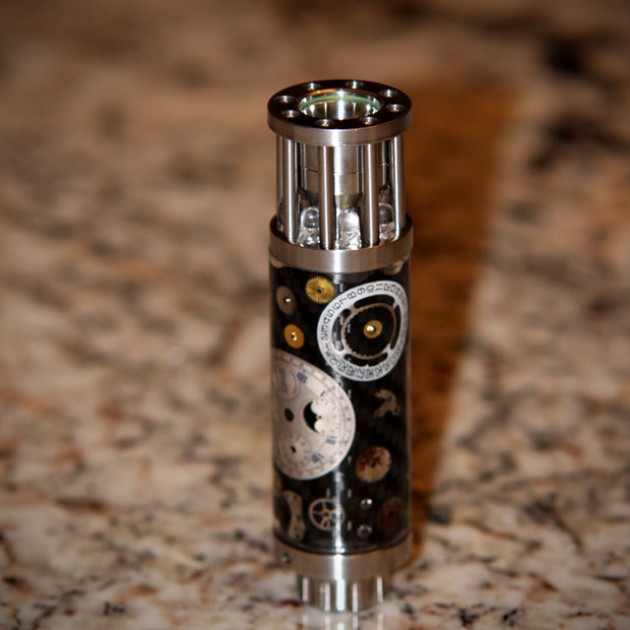 via Luxury Launches via Robb Report