Roof racks. They are such a useful accessory that most of us would ignore the fact that it could be an eyesore when not in use. Well, I guess that's the way it is. If you need it, you have to live with the roofline-breaking consequence. But a Minnesota-based startup, Otium Outdoors, who set out to create a roof rack that's affordable, turns out inventing one that also lets you say goodbye to unsightly roof rack when you don't need them. A roof rack is a somewhat pricey investment that's kind of semi-permanent, but Otium Outdoors' solution, called Otium SoftRack, is not. It is removable and can be stow away in the trunk when not needed and fitted on the car in just two minutes or less, and be ready to haul anything from ladder to kayak to skis.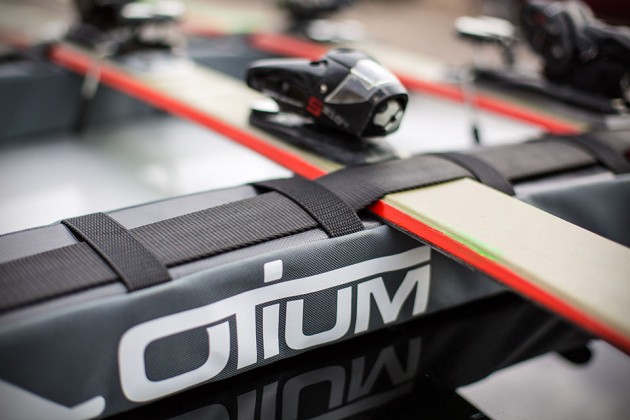 Best of all, it will fit any vehicle, which means whether you change car or rent one, you can always have the same roof rack for whatever that you need to lug along. SoftRack comes in a pair and is made of foam block, wrapped in weatherproof canvas. The top and bottom gets RubberTek protection that not only protects the roof of the car and your gear, but it also anti-slip. 10' nylon webbing straps with D-rings keep it secure to the car roof, while nine reinforced loops found on the top of the blocks lets you customize the fit your rooftop cargo bag and whatnot securely on the roof. Each block measures 44" x 3" x 4" and weighs in at just 4 lbs.
Last but not least, each set comes with a super stylish carrying case with straps, so you can pack it up and lug it around with you when you return the borrowed car, or simply stash them in the trunk and be rid of unsightly roof rack. And the convenience will only cost you $125, which is significantly lower than a fixed-type roof rack. You can pre-order yours on Crowd Supply and if all goes well, you can expected to see it as soon as May. Check out the product video after the break.