when you really think about it, the design of a DSLR chassis has somewhat reach its peak. in another word, there aren't much to tweak, but to Pentax, there is just a couple more things to add to its K-S1 that will sure to make it stands out from the competitions. it has an illuminated body and a slew of color options that challenge the norm – in addition to an unusual but striking boxy body that breaks the convention of DSLR design. on the camera body, a string of LED lights can be found on its boxy grip and around its shutter button. the lights are not there for vanity intent; apparently, it will change color according to its current function. for example, green represents still imaging, while red indicates that it is on video recording. nothing ground breaking, to be honest, but a helpful indicator especially when executing remote shoot nonetheless.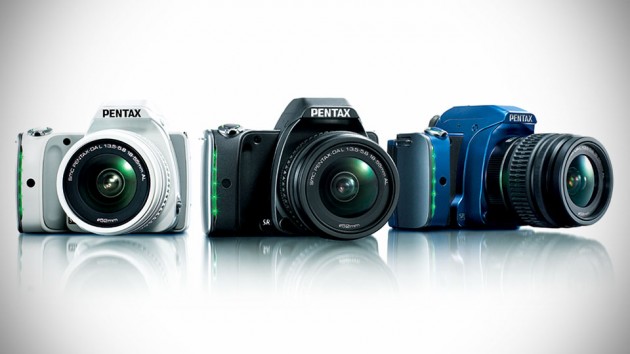 spec-wise, it boasts features like a 20.12MP CMOS sensor, a 3.0-inch LCD monitor with a redesigned Graphical User Interface, Full HD movie recording with stereo audio, super high sensitivity at ISO 51,200, super fast shutter speed of 1/6000 sec, high-speed continuous shooting at up to 5.4 times per second, Pentax-developed anti-aliasing filter simulator, optical viewfinder touting 100% field of view, built-in shake reduction mechanism, and dust removal mechanism for effective elimination of dust on the image sensor. by itself, the camera does not play friendly with smartphone, but there's an optional FLUCARD for Pentax 16GB memory card that will add smartphone-support functions.
the Pentax K-S1 DSLR will be offered in 12 different colors, with black, blue and white as standard, plus four models from 'the fabric collection', which includes cotton beige, linen brown, denim blue, tweed grey, and five from 'the night sky collection', comprising of sunset orange, dusk gold, moon silver, midnight black, and dawn purple. the Pentax K-S1 DSLR is expected to be available starting mid-September with a body-only sticker of £549.99 (about US$912), or with SMC DA L 18-55mm f3.5-5.6 at £599.99 (or around US$995). a package that comes with the SMC DA L 18-55mm f3.5-5.6, plus a SMC DA L f4-5.6 AL 50-200mm AL will be also be offered at £679.99 (around US$1,120).