you know, there are hundreds and one way headphones makers can push their products, but one that promised "superior club sound" like these of MX and CX series headphones from Pioneer Electronics have to be the first and it is the promised of 'nightclub sound' that prompts us to take a second look. aesthetically, they are naturally pretty products, but beyond the beauty, Pioneer says that these headphones will have snappy midrange and low bass response that kind of replicates the sound of nightclubs that usually generates "excitement and fun for patrons". we cannot fathom the rationale, but we guess if you are club music lover, you would probably appreciate these headphones.
kicking off the series is the MX on-ear headphones, which comprises of the SE-MX9 and the SE-MX7. the former is a flagship said to based heavily on the firm's HDH-2000 DJ cans and is fitted with the same 50mm drivers for emphasis in bass response. clad in a simple and yet elegant design, the MX9 features full length urethane head pad and ear pads which are wrapped in synthetic "protein leather" for comfort and fit. the MX9 also sports a 1.2m tangle-free and removable D-shaped cord with inline microphone and remote for music control and taking of calls.
the MX7, on the other hand, has a smaller 40mm drivers which also place emphasis on bass to please club music lovers. interestingly, there is also an advanced bass level control built into the earcups which, with a touch and rotation of the outer housing, allows you to quickly dial in to your desired level of bass output. the MX7 comes with a molded headband with rubber-like finish out the outer and wrapped in a soft urethane head pad, while the earpads has polyurethane-leather. a 2-meter cable with integrated microphone and remote comes standard. the Pioneer SE-MX9 and SE-MX7 is set to be available this month for $299.99 and $199.99, respectively.
as for the CX series, they are in-ear examples, sporting larger housings to accommodate Pioneer's Bass Exciter technology which replicates low frequency vibrations produced by headphones. the Bass Exciter is essentially a piston that travels back and forth "at a low frequency rate of the music", resulting in the in-ear headphones to vibrate for a sensation of deeper bass reproduction. details of the CX9 includes a hybrid two-way driver system, balanced armature driver, detachable cord and a beautiful aluminum body that no style-conscious club music lovers will ignore.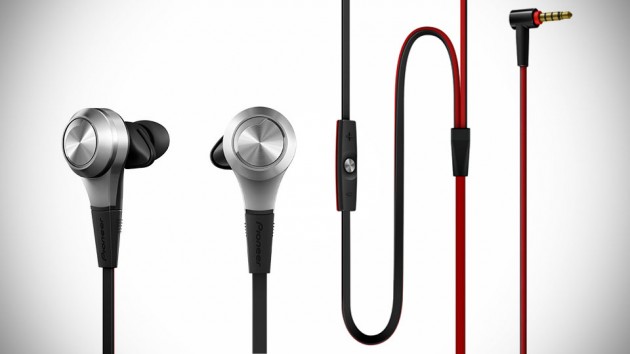 last but not the least is the SE-CX8. the Cx8 is fitted with 9.4mm drivers featuring lightweight copper-clad aluminum wire diaphragm for turning out rich bass and clearer mid and high-frequency response. it has a 1.2-meter OFC litz cable, detachable as well, plus the obligatory inline remote with integrated microphone. the Pioneer SE-CX9 and SE-CX8 will also be available this month and comes with pretty hefty price tags of $299.99 for the CX9 and $199.99 for the CX8.