A 3D printer's potential is so much more when paired to a 3D scanner. Why? Because not everyone is comfortable mucking around with 3D programs. With a 3D scanner, it allows you to make copies of a product (kind of like photocopying, but slower process) and even modify them to suit you purpose. If that sounds like fun to you, then here's another 3D scanner to hit the market and it is called EinScan-S 3D Scanner from China-based Shining 3D. As a matter of fact, the machine which the outfit is peddling is actually the third iteration; the second was demoed at the International CES earlier in January. The third and presumably, final iteration, promised "industrial-grade accuracy, resolution and speed" but at a competitive price.
Make no mistake. This gadget here is not a 3D digitizer. It uses white light, the world's first desktop 3D scanner to do so, as opposed to laser which is harmful to the eyes and therefore not exactly safe for children. The latter is key cos' this rig is marketed for home users, whom may have kids around the house. It also touts itself as a complete scan-to-print solution where scanned objects are turned into virtual objects in STL format, ready for any desktop 3D printers. Additionally, it also offers two scanning options: automatic scan which you let the turntable takes on the duty of rotating the subject and the scanner picks it up automatically, or manual aka free scan where you take control of the rotation and capturing the 3D image.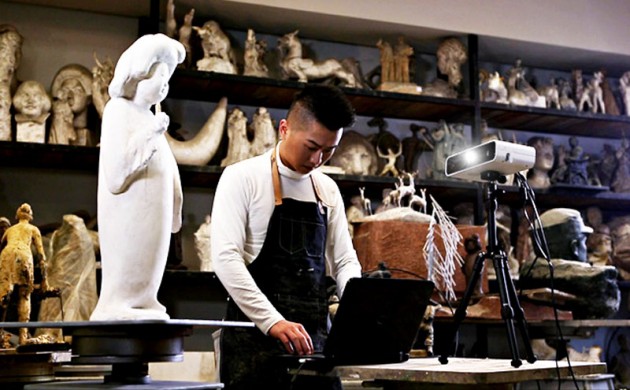 Free scan can accommodate up to 700 mm3 subject, while the Automatic scan is restricted to 215 x 215 x 200 mm. And oh did we mention that it designed to be portable? Yup. It is. So it can be collapsed and lug to wherever you maybe headed to. The EinScan-S 3D Scanner is currently being crowdfunded on Kickstarter where you can pick one up for as low as $799. Delivery is estimated to be in May 2015. Scroll down for a product video.