By now, the Algiz 10X Rugged Tablet by Handheld Group would have felt dated and it is only right it gets some deserving upgrade, and it did. Swede Handheld Group has recently announced the upgraded Algiz 10X, simply known as Algiz 10X ver. 2, now boasting a more power processor that promised speedier startup and operation, along with increases software compatibility. As before, you can expect the device to be built tough and in this case, it is IP65 rated and is said to meet MIL-STD-810G military standards, keeping the device sealed against dust and water, while resisting vibrations, drops and even extreme temperatures (-20oC to 60oC, or -4oF to 140oF).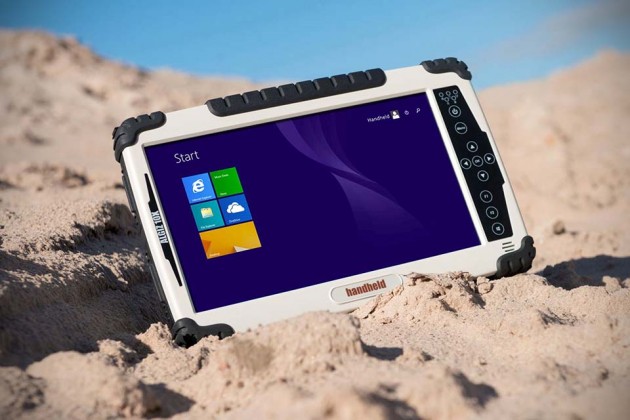 Like its predecessor, it gets a 10.1-inch HD LED touch display with 1,366 x 768 resolution and high-brightness MaxView Technology, as well as ambient light sensor. Though it is worthy to note that it is not a multitouch display that you may have accustomed to; touch functionality is of resistive single touch, but I guess it won't matter much if you are using on an oil rig. Under the hood, it gets a more powerful Intel quad-core N2930 processor, clocking in at 1.83 GHz, 4GB DDR3 RAM (not a typo, btw), while storage is by the way of a 128GB SSD, which is further expandable with microSD card. It will run on Windows 8.1 Industry Pro, but downgradeable to Windows 7 if you so desire.
Other tidbits include LTE capability with a fully integrated modem and antennas, integrated u-blox GPS receiver, antenna pass-through connectors for both GSM and GPS, a lone 5MP camera with LED flash, plus a host of connectivity options like dual-band WiFi, Bluetooth 4.0, USB 2.0 and USB 3.0, VGA and RS232 ports. Obviously, the Algiz 10X Rugged Tablet is not your usual consumer tablet; it is geared towards field workers such as those in geomatics, logistics, forestry, construction et cetera, but hey, if you have the money to drop, I guess no one will be stopping you. The Algiz 10X Rugged Tablet is available as we speak. As for the price, you will need to touch base with Handheld Group to get the quote. Hopefully, you will be buying more than one.