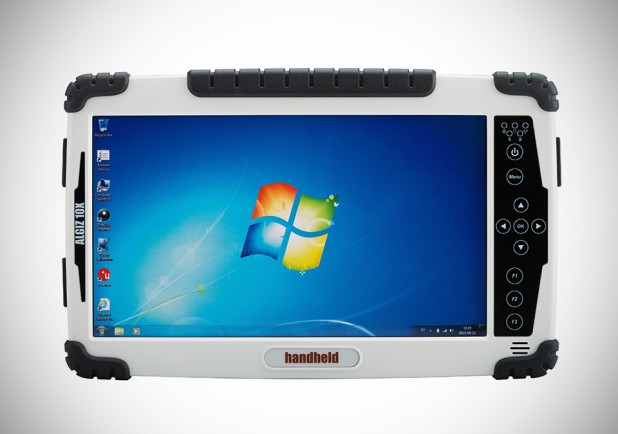 Algiz 10X Rugged Tablet by Handheld Group | €tba | www.handheldgroup.com
these days, field professionals no longer need to tote around hefty and bulky ruggedized laptops to execute their duty in the field – all thanks to the development of rugged tablets such as this Algiz 10X Rugged Tablet from Swedish rugged mobile computer specialist, Handheld Group. the Algiz 10X is IP65-rated and meets MIL-STD-810G military standards for protection against dust, water, vibrations, drops, extreme temperatures, as well as varying attitudes – thus, field pros can have a peace of mind when using this tough guy or lugging it around their field of work. special features include an integrated u-blox GPS receiver and WAAS/EGNOS/MSAS capability that gives you the edge in mapping and surveying, while a 10.1-inch LED high-brightness MaxView technology resistive touchscreen with 1,366 x 768 resolution lets you view it even under bright sunlight. driven by 1.86 GHz Intel Atom N2800 dual-core processor with 4GB of DDR3 RAM, the Algiz 10 is the ultimate workhorse fitted with a choice of 64 or 128GB SSD (expandable via microSD) and powered by Windows 7 Ultimate and is ready for upgrade to Windows 8 when it becomes available.
other features include antenna pass-through connectors for external antenna when unit is docked, hot-swappable lithium-ion battery pack, three user-programmable buttons, 4+1 navigation/directional keys, a 5.0-megapixel camera with LED flash, waterproof ports including one USB 2.0 port, one RS232 port, and VGA port, Ethernet port, built-in speaker and microphone, audio headphone jack, plus the usual works of connectivity including Bluetooth 4.0 and WiFi with WEP, WPA, WPA2 support. strangely, there is no mention of the other 'usuals' such as accelerometer, proximity sensor, digital compass, gyroscope, though it does have ambient sensor built into it. with all the ruggedness and electronics packed in, the Algiz 10X still managed to tip the scale at just 1.3 kg (2.9 lbs) and a thickness of 32 mm (1.2″). heavy and thick by consumer's standards but we guess it is perfectly decent for professional fieldworks such as archeology, construction and the likes. though designed with field professionals in mind, you can always choose to use such a ruggedized tablet if you are always paranoid about the elements as long as you have the cash to spare and don't mind the size and weight that comes standard with it.
the Algiz 10X Rugged Tablet by Handheld Group is slated to be available in January 2013 with an yet-to-be-announced price. in the mean time, you can check out a few more images below or learn more about the Algiz 10X HERE.