JBL Radial – ipod speaker
i have just acquired a iPod speaker, the
JBL radial
(white). first off, i need to clarify, this piece of gadget is without doubt an 'extra' in my life. i mean, i hardly listen to music unless i m glued to the comp. anyway, i thought i did gave it a try. upon opening the package, my first impression was the quality is top notch but ain't perfect. on the physical aspect, the Radial is round and when it had a 'radial' shape grill, it ain't going to be perfect. trust me. under the shade of the light, you can actually detect some 'wave' here & there over the speaker grill but i certainly don't have an issue with that. how often do i stare at it? i bet i will be listening more than appreciating its physical beauty. i wasn't intending to get a white-colour set but i guess i have too much of black amongst my gadgets & furniture. you know, black HD-DVD player, black PS3, black CPU, dark wood cabinet et cetera. also considering the fact that i will be placing the Radial on a dark wood bench, i thought white was the way to go. well what can i say, as far as colour goes, no regrets. partly due to the fact my Ipod Classic is silver in colour, kinda of matched up between the two of them.
(photo source: mikeshouts.com)
the package comes with the speaker cum docking station which charges your iPod as well. i think most of us knew that part already. now comes the thought part: the package comes with several iPod dock adapters to cater for the different iPods and it came with 2 sets of wire, one with 2 pin plug and another 3 pin plug. though its a small detail, but hey, at least you got a choice. isn't it? setting up was pretty straight forward and could be easily done in a couple of minutes. once set up, i proceed to dock my iPod Classic onto the JBL Radial and fired up the Radial. I tested with music from SHINE – The Complete Classics. Its a classical collections with mixed of classic opera vocals. i am no audiophile freak, and i don't have superhuman ears either but frankly speaking, what comes out from the under that curved grill, was music to my ears. the music was clear and wide, easily filling up my 25 square.metre living room with well-balanced classical music. i guess it could be better, in terms of placement of the Radial. i placed my Radial on a dark wood overhanging beach, bench material is laminated wood chipboards. the Radial is placed approximately 100mm to 120mm away from the concrete wall. No corners except for the length where the bench hangs on the wall. i had the Radial tilted about 20DEG clockwise, facing the sofa where i would normally sit when i read, and of course now, savouring the music churned out by my lovely iPod via the Radial.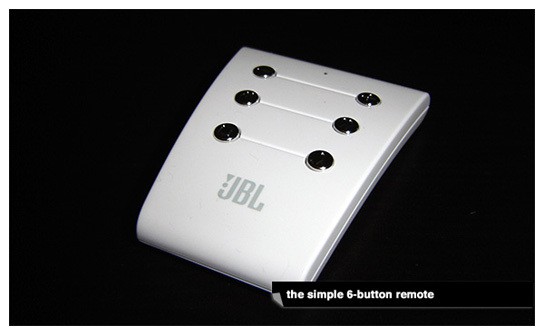 (photo source: mikeshouts.com)
did i forgot to mention that it came with a 2-way remote? its just a simple 6-buttons remote and of the 6 button, in which 4 of the buttons are dual functions, depending on what mode the remote is on. the mode-button switch the volume and skip-track buttons to menu mode where you can scroll through your iPod menu and make the desired selection. i m not sure of remote range, but good range is only good for volume control, or maybe skipping of tracks. if you are thinking of scrolling thru the menu from a distance, sure no probs… just make sure you can see what you are scrolling from a distance. ok, i admit, not only do i not have superhuman ears, i don't have bionic eyes either. the Radial is about 5 feet away from where i sitted and i can't see what's on the screen on the iPod when i attempt to scroll to the playlist. but of course that's not a big issue either, but just some observation.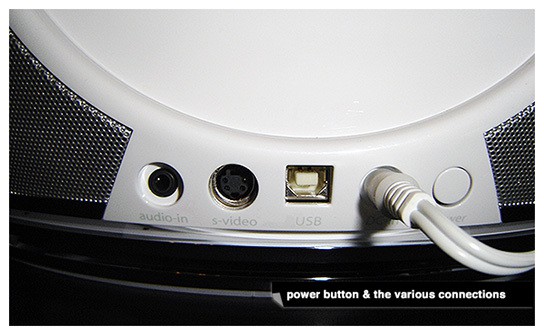 (photo source: mikeshouts.com)
i am satisfied with my new acquisition, no regrets. in fact, the JBL Radial didn't came up as my first choice for iPod speaker. it was the BOSE Sounddock Digital Music System but after doing some 'research' i decided to go for the Radial. it may not appeal to audiophile buff, but for something with such a tiny footprint, and size for that matter, it has more than proven itself to me. price aside. this is definitely worth considering if you are out looking for an iPod speaker.