first it was the curved TV and now, Samsung thinks that a regular soundbar would look totally out of place and therefore, the team at Samsung has cracked their brains and devised a matching Curved Soundbar to work in conjunction with the firm's Curved TVs, completing what the South Korean electronics maker refers to as a 'Total Curved Solution'. the Curved Soundbar, designated model number HW-H7500/H7501 is set to make its debut at the IFA 2014, along with the M3 Wireless Audio Multiroom speaker system. the Curved Soundbar is designed with the 55- and 65-inch Samsung Curved UHD TVs in mind, complimenting the aesthetic of those TVs and can be used as a stand or wall-mounted. Samsung said that no additional holes are required for wall-mount, as the soundbar essentially takes the place of the stand.
it has a width of 42 mm (about 1 5/8″) and the same curvature as the Curved UHD TVs. Samsung claims the curved soundbar will deliver "a greater sense of curve by surrounding the viewer and providing a truly powerful listening experience." aesthetically, it sports a finely brushed aluminum enclosure that matches the current Curved TVs offered by Samsung and under the hood, the HW-H7500/H7501 features 8.1 channel support with two additional speakers flanking the sides to form a three-direction audio delivery. there is also Sammy's proprietary technology packed into it that will offer detailed sound, amped up mid and low-range capabilities. control of the soundbar can be executed via Samsung TV remote and by connecting the soundbar to the TV wirelessly through "TV SoundConnect" feature.
no word on when it will be hitting the market or how much it will be priced. curved TV. checked. curved speakers. checked. so what's next? a custom curved wall perhaps so that the two curves won't look out of place? keep going for a few more look, along with a translated text.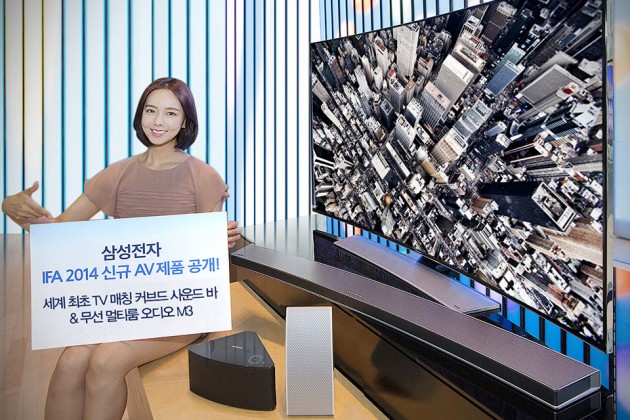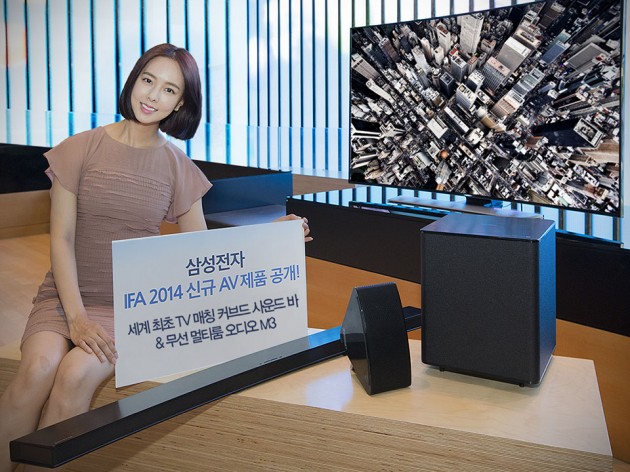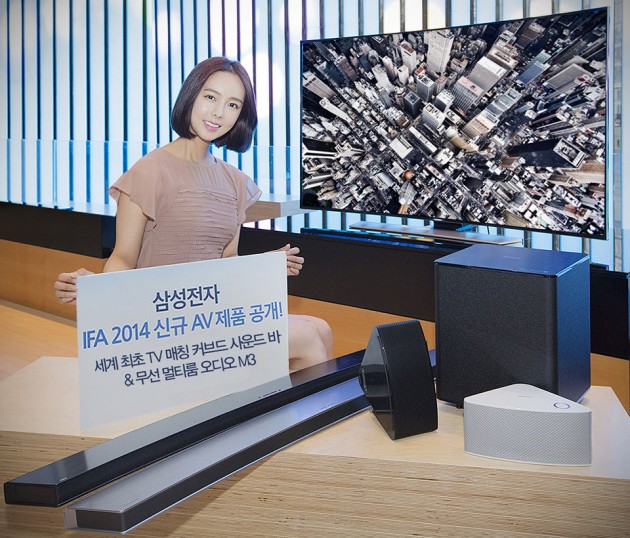 note: the board basically says Samsung Electronics. IFA 2014 release of new AV products! the world's first TV matching curved soundbar and wireless multi-room audio M3.