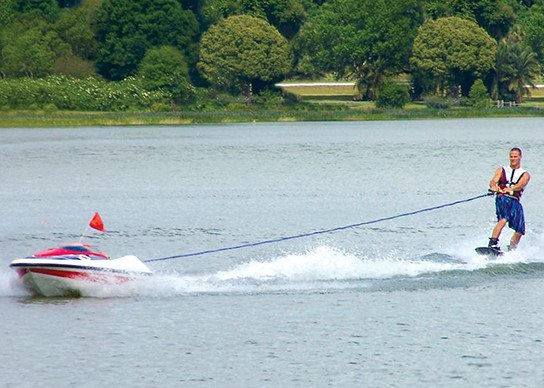 (credit: Hammacher) The Skier Controlled Tow Boat | US$17,000.00 | www.hammacher.com
water skiing is a sport that requires at least two person, namely, the skier and the boat operator. however, this two-person trend is set to change with The Skier Controlled Tow Boat. The Skier Controlled Tow Boat is an unmanned water skiing boat that puts the boat control into the hands of the skier. the tow handle of this unmanned vessel sports a control panel with half a dozen buttons that allows the skier to start, accelerate, decelerate, turn, or stop the vessel using just the thumb.
[ad#Google Adsense-text-468×60]
the unmanned vessel measures roughly 8-feet long and is powered by a three-cylinder, two-stroke engine that pushes out 70 horsepower. instead of propeller, this vessel uses jet pump and axial flow propulsion which is safer than propeller-powered crafts for obvious reason and it also "provides superior acceleration and quicker planing." it may be a small vessel but the onboard engine and propulsion system is capable of pushing the boat up to 40 mph, creating wakes along way that are ideal for jumps and other tricks the skier desires.
this tri-hull design boat is constructed from a combination of fiberglass and molded plastic. a bilge pump onboard automatically removes water that escapes into the vessel. the boat automatically stops when the skier lets go of the handle, ensuring that you boat will never berserk if you accidentally let go the handle while performing your tricks. this unmanned vessel is also suited for slalom skiing, knee boarding as well as wake boarding.
want one? you gotta have quite a decent size pocket to swallow the $17,000 asking price. how's that for a sport of luxury? i wish i could have one but the price is obviously too prohibitive for me.