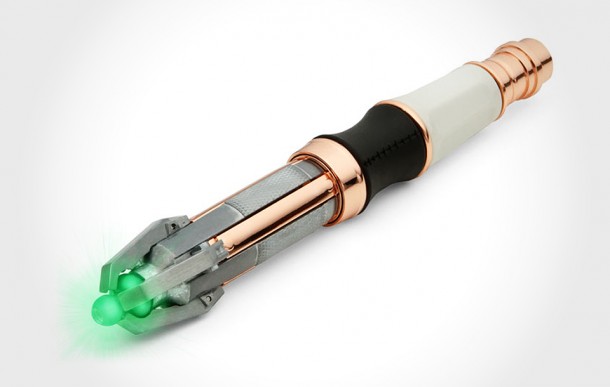 Sonic Screwdriver Universal Remote Control | US$99.95 | www.thinkgeek.com
tired of messing around with too many remotes? or simply frustrated with all the nonsensical happenings around the world and wish you could save the world? good news fellow earthlings cos' the Sonic Screwdriver Universal Remote Control can now be your earthly possession that could aid you in doing those, i mean, consolidating your massive remote control collections. as for saving the world, we have yet to get there but in time to come, my friend. in time to come. anyway, the Sonic Screwdriver Universal Remote Control is, as its name implies, a universal remote fashioned after the Eleventh Doctor, Matt Smith's Mark VII Sonic Screwdriver (no, it doesn't screw anything). it features gesture-based control and uses infrared technology to manipulate virtually any Earth-based IR-based appliances, including your TVs, DVD players and much more.
the Sonic Screwdriver Universal Remote Control supports 13 gestures, along with 3 memory banks for you to store up to 39 remote control codes, which is more than enough to handle any earthly home entertainment equipment you may possess. other features include authentic sound effect, illuminating tip with bright green light, programmable with learning function, guided setup, personal lock code to keep the control all to yourself, and four modes of operations that include practice mode for learning the gestures, control model to begin your career in controlling your electronics, the quiet control mode for stealthy operations and the FX mode that let you enjoy 13 authentic special FX sounds from the Doctor Who universe as you flick away, wielding your new found power. coming to you this September for $99.95 a pop, in which you will also get a high quality presentation display stand for showing off your wand of power if you prefer not to use it.