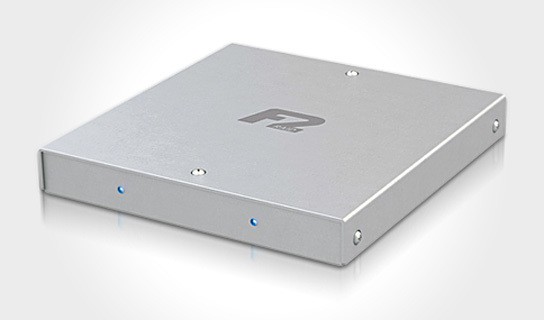 (image: Sonnet) Sonnet Fusion F2QR Portable Two-drive hardware RAID Storage System | US$569.00 | www.sonnettech.com
if you are power user of external storage system, especially for multimedia contents, then the new Sonnet Fusion F2QR Portable Two-drive hardware RAID Storage System from Sonnet Technologies could be an ideal addition to your growing bytes. beneath its rugged aluminum chassis is a pair of 2.5-inch hard drives with 1-TB capacity. building upon its highly successful Fusion F2, the F2QR features shock resistant capability, built-in hardware RAID controller, a host of interfaces that include eSATA, FireWire 800, as well as USB 2.0 port. with the built-in hardware RAID controller, user can hook up the F2QR to a computer with just a single cable.
[ad#Google Adsense-text-468×60]
it supports RAID 0, RAID 1, SPAN, and JBOD without the need for OS RAID support or any specialized controller card. the system is capable of read speed of up to 160 MB/sec and a write speed of 100 MB/sec. on the design aspect, the aluminum enclosure is not only pleasing to the eyes but it is also function to ease the heat, thus negating the need for a fan. which also means, a quieter operation. the Sonnet Fusion F2QR is both Mac and Windows compatible and it comes packaged with configuration utility software, power cable and cables for each form of interface.
the Sonnet Fusion F2QR Portable Two-drive hardware RAID Storage System has a MSRP of $569. official press release available after the break.
[toggle title_open="Hide Press Release" title_closed="Show Press Release" hide="yes" border="yes" style="default" excerpt_length="0″ read_more_text="Read More" read_less_text="Read Less" include_excerpt_html="no"]
Sonnet Introduces Fusion™ F2QR Portable Two-drive Hardware RAID Storage System
Ruggedized Storage Offers Quad Interface for Ease of Connection, Powers
From Computer's FireWire® Port, and Adds 2TB of Capacity
IRVINE, CA—September 29, 2011—Sonnet Technologies, a leader in providing storage systems for professional users of Macintosh®, Windows®, and UNIX® systems in the film, video, and broadcast industries, today announced the Fusion™ F2QR portable two-drive hardware RAID storage system. Mounted side by side in a tough aluminum enclosure about the size of two stacked CD cases, the diminutive system contains two, 2.5-inch, 1TB hard drives. Based on the multiple-award-winning Fusion F2, a portable two-drive RAID SATA storage system recognized for its performance, reliability, whisper-quiet operation, and shock-resistant characteristics, this compact device adds a built-in hardware RAID controller for configuring the drives; a quad interface with eSATA, FireWire® 800, and USB 2.0 ports for flexible compatibility; and a greater storage capacity. The Fusion F2QR delivers great performance with up to 160 MB/sec read and 100 MB/sec write data transfer rates, and is bus-powered by a FireWire port on the computer regardless the interface used.
"The original Fusion F2 storage system experienced great success due to its ultra shock protection and uncompromising performance and reliability. By improving upon its design with added connectivity options and larger drives in the Fusion F2's compact, low-power package, Fusion F2QR offers increased utility for field use in audio, photo, and video editing applications," said Robert Farnsworth, CEO of Sonnet Technologies. "Fusion F2QR will find a home in the equipment cases of many mobile professionals."
Mounted inside its rugged aluminum shell, the Fusion F2QR's drives are shock- and vibration- isolated to help protect against rough handling. Fusion F2QR is cool, nearly silent, and energy-efficient. The engineered aluminum case efficiently transfers away heat, eliminating the need for a fan.
The Sonnet Fusion F2QR features a built-in hardware RAID controller that manages its drives, and enables the system to connect to a computer with a single cable. It supports fast (RAID 0), safe (RAID 1), big (Span), and JBOD configurations without relying on OS RAID or a specialized controller card. The included configuration utility software is simple to use and supports Mac and Windows operating systems.
Fusion F2QR's quad interface offers users three ways to connect the storage system to their computer, enabling maximum flexibility in sharing data between a variety of computers. They can select an eSATA, FireWire 800, or USB 2.0 interface for maximum performance, medium speed, or ubiquity, respectively. (The fourth port is a FireWire 800 pass-through port.) Sonnet includes the cables for each interface, so the F2QR can be connected immediately. Connected via the Sonnet Tempo SATA Pro ExpressCard® eSATA controller, the Sonnet Fusion F2QR in RAID 0 configuration can sustain read transfer rates of up to 160 MB/sec, fast enough to support multiple streams of compressed video editing. Fusion F2QR is powered by connecting the included power cable or FireWire interface cable to a FireWire port on the computer or hub. Users can alternatively power the F2QR with Sonnet's optional World Travel Power Adapter.
Fusion F2QR 2TB (part number FUS-F2QR-2TB) is available immediately, with a suggested retail price of $569. For more information on Fusion F2QR, visit the Sonnet website at http://www.sonnettech.com/product/fusionf2qr.html.
# # #
About Sonnet Technologies
Sonnet Technologies Inc. is a leader in providing storage systems and media readers for professional users of Macintosh®, Windows®, and UNIX® systems in the film, video, and broadcast industries. The company's product line features a range of high-performance, cost-effective, and reliable desktop and rackmount RAID storage solutions ranging from two- and four-drive and SSD RAID units, to 8- and 16-drive solutions with advanced RAID controllers, to 16-drive, 16-port, 8Gb Fibre Channel shared storage systems that are expandable to 384 TB. Celebrating 25 years in business, Sonnet has pioneered and brought to market numerous innovative solutions that enhance the performance and connectivity of Macintosh, Windows, and other industry-standard computers. More information is available at www.sonnettech.com. Echo is a trademark of Sonnet Technologies, Inc.[/toggle]
SOURCE: Sonnet
via Hardware Zone