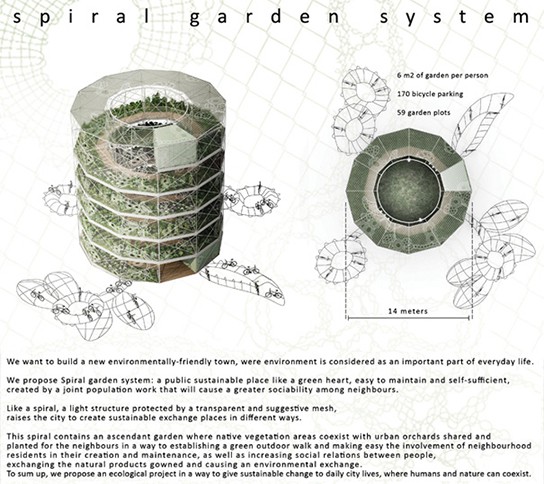 (image credit: IIDA)
we see future in two aspects: concrete and steel structures replaced greeneries, and physical socializing becomes whole lot lesser. i don't know about the rest of the pops but i see bleakness in the future. something has to be done to encourage a little more greens and more real socializing instead of Facebook. well, presented here is the vision of four designers, Benet Dalmau, Saida Dalmau, Anna Julibert & Carmen Vilar that could prevent the human of the future from being zombiefied.
introducing the Spiral Garden System which is a self-sufficient, sustainable public garden. the people of future, who has sudden craving for greeneries, could just head on to this beautiful light structure where within lies native vegetation coexisting with urban orchard along a walkway that spirals skyward. these greeneries are shared and planted for the neighborhood and thus encouraging them to be involved in the creation and up-keeping of this garden, which no doubt will improved the social relations greatly.
the funny thing is, people tend to associate this type of social gathering with older folks but maybe, that will not be the case for the people of the future. socialization will be great, at least not until some neighbors started vying for the fruits of the labor. nevertheless, at least there's some sight of light in the bleakness. however, i just don't see the 'self-sufficient' part, though. we also noted that people of the future probably won't be able to do frisbee throw in there.
via Yanko Design