Just when we thought a house hanging on the face of a cliff was super dope, the folks over at the Open Platform for Architecture or OPA shows us that cliff-based dwelling could be made even cooler than Tony Stark's Point Dume residence in Malibu (which is fictional house, btw) by having the abode inside the cliff. Dubbed Casa Brutale, this ultra modernistic architecture literally sits within the cliff and becomes part of the cliff, save for interjection of modern building materials comprising of three thick concrete slabs and a bunch of glasses. Natural wood are also incorporated into the design to further accentuate the building's contemporary-cross-nature theme.
The generous use of glass on the facade, lets the occupants enjoy an expansive view of the ocean. The pool, located on the surface, is a continuation of the ocean and boasts a reinforced glass bottom that, together with the natural lapping water, lets light penetrates the building in an undulating wave pattern that seem to give the interior a life of its own. The glass also serves to smoother the otherwise harsh concrete and bridging the gap between the building and the nature's creation. There is no lift (or elevator, if you will) to speak of. Instead, access into this stunning architect is via a 50-step stairway that descends down to a glass-panelled balcony and a tall rotating door made of aged wood that opens up into this majestic underground structure.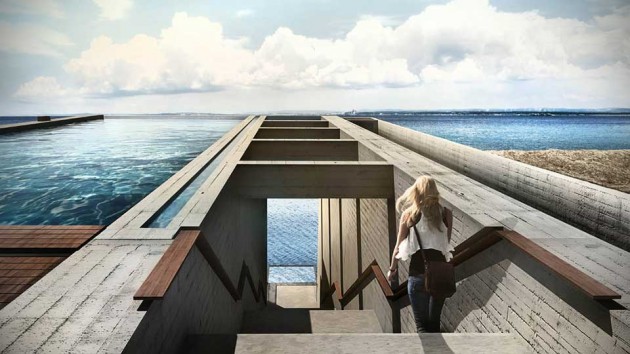 The Casa Brutale has two bedrooms, the master is on the mezzanine level, accessible via a flight of concrete stairs and a guest room. There is no doubt that Casa Brutale is an awe-inspiring architecture and possibly, a dream home for most. While we are very much impressed, it does leave us with some unanswered questions such as, where does the utility comes from and where does the waste goes to? Until those questions are answered, and the overall integrity of the building with respect to nature's earth can be ascertained and guaranteed, it will remain as a dream concept that's good for movies.