If you really look at it, today's wireless charging solution is not quite truly wireless; after all, the induction charging pad is still wired, is it not? And don't get us started with on-the-go wireless charger. This is where an LA-based startup, Stacked, wants to make the difference. It has developed the first truly wireless charging ecosystem for iPhone that ditches wires in favor of a unique magnetic charging technology and it is called, well, Stacked. Stacked brings wire-free charging to your home or office and also when on the road, and it achieves by with a system consisting of an iPhone case, Power Pack and AC wireless wall-charging plug.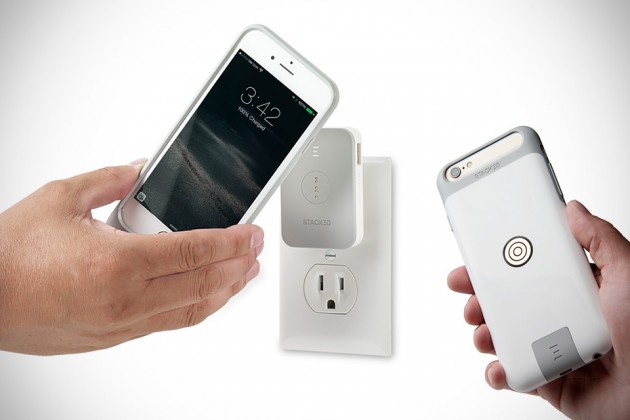 So what makes Stacked different from regular induction charger? Well, first off, magnetic connection provides contact charging, which logically speaking, should provide secured (read: it won't slip off) and faster charging and secondly, there's no actual charging of your phone per-se; the Power Pack is what needs to be recharged, which is done through sticking it to the said AC wall adapter. The real beauty in Stacked Wireless Charger is, the AC wall adapter can charge up to five Power Packs simultaneously, stacked on top of another.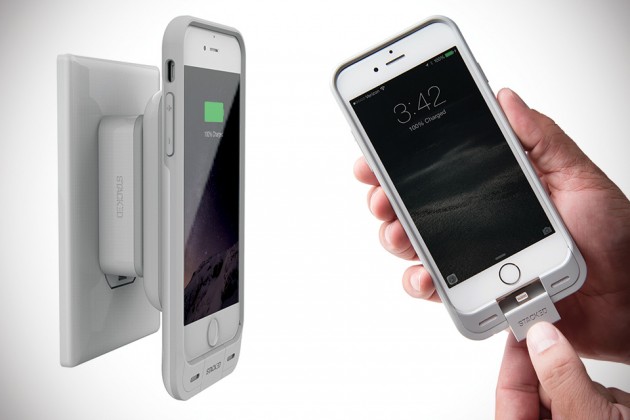 To start charging, all you have to do is to slap on a charged Power Pack on the special iPhone case and it will starting charging up your device. Stacked solves a lingering problem with portable charger, which requires a cable between the portable battery and your phone. Not only does it eliminates the cable, but also get rid of the hassle of juggling two objects when charging on-the-go, since the Power Pack magnetically sticks to the iPhone case. Take this awesome on-the-go charging concept and applies to home or office use, you'd be saying to irksome cables forever. Moreover, the handsome iPhone case will also keep your iPhone protected with minimum bulk.
And since protecting and charging are part and parcel of owning an iPhone, we'd say Stacked Wireless Charging is a win-win for iPhone users. Stacked Wireless Charging is designed specifically for iPhone 6/6s as well as 6 Plus/6s Plus and is available via Stacked official web, priced at $129.99 a pop. Go ahead and see it in action in the product video below.