(photo credit: peeweepc.com) PeeWee PC Pivot 2.0 Tablet Laptop | US$549 | www.peeweepc.com
why settle for monochrome LCD screen toy laptop when you get a real one for your kids? adults won't settle for less, why should kids? i wanted to say this for a long time: i wish those pretend-to-be toy laptop doesn't even exist. seriously. luckily, we have the PeeWee PC Pivot 2.0 Tablet Laptop to keep the kids happy and actually learn something about computer.
granted it is an expensive gadget for kids as compared with cheaper "adult" notebooks in the market today but the PeeWee PC Pivot 2.0 Tablet Laptop is designed (or rather, conditioned) for kids. with its ruggedized outer casing which is drop-proof (tested with 50cm drop test) and spill-resistant keyboard, it will take just about any torment your kid can unleash on it.
there are real laptop for kids, and also touchscreen for kids (such as the upcoming Fisher-Price iXL) but the Pivot 2.0 is both. its a "dual mode" PC meaning its a resistive touchscreen tablet and a PC laptop in one package. powered by Intel Atom N450 1.66GHz processor and Intel 945GSE Chipset, the PC also features 160GB 1.8″ PATA HDD, 1GB RAM (upgradable to 2GB), 2-in-1 SD/MMC card reader, USB 2.0 ports, touch pad and a touch screen that's capable of handwriting recognition.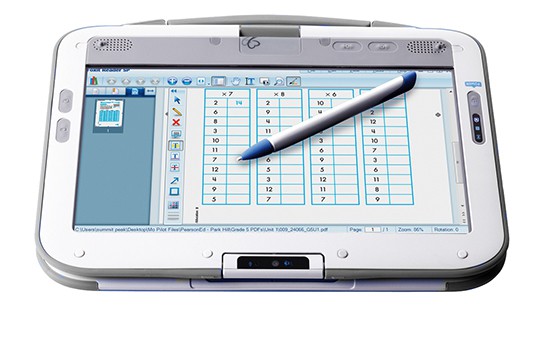 (photo credit: peeweepc.com)
connectivity includes RJ-45 Ethernet port, 1/8″ external mic-in jack, 1/8″ external headphone jack, 15-pin VGA port, Bluetooth-ready, WI-FI 802.11 b/g/n and Kensington Lock ready. completing this full-feature tablet/laptop are rotatable screen 10.1 inch resistive touch screen with a resolution of 1024 x 600, integrated UMA Intel Graphics, integrated 2-channel audio with 1W speakers, a 1.3MP webcam and built-in accelerometer.
there's no CD-ROM though, but you can always get an external CD-ROM drive to go with it if required. the PeeWee Pivot 2.0 Tablet Laptop comes preloaded with Windows XP Home, 15 games and 2 security apps. talk about starting from young.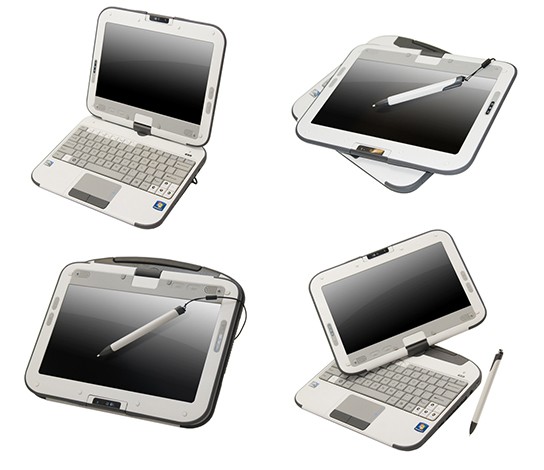 (photo credit: peeweepc.com)