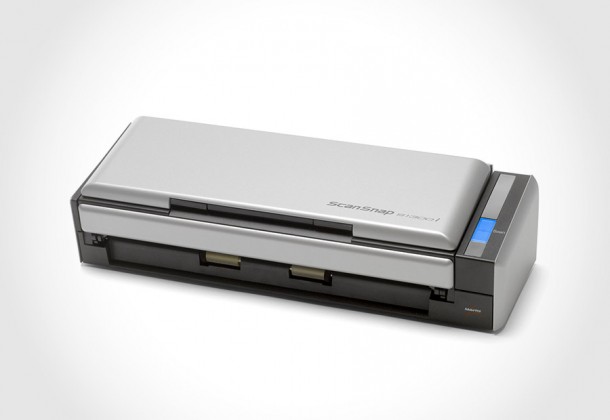 Fujitsu ScanSnap S1300i | US$295.00 | www.fujitsu.com
feeling overwhelmed by papers? then you should seriously consider going on the paperless route. you can make paperless a reality today with advance scanning solution like the Fujitsu ScanSnap S1300i. the new S1300i not only offers what its predecessors has but it is 1.5 times faster, support a variety of cloud services and it is now able to scan directly to compatible mobile devices. a free "ScanSnap Connect" app, available for both Android and iOS devices separately, allows users to send scanned paperwork via existing WiFi connection to their Android tablets and smartphones running OS 2.2 and above, or to their iPad and iPhone running iOS 4.2.1 or later. additionally, users can also choose to scan their documents directly to digital storage service such as Dropbox, Google Docs, Evernote et cetera, where the documents can then be access anywhere in the world regardless you are using a PC or a Mac.
other features include faster scanning speeds of up to 12 double-sided color pages per minute (ppm), automatic quality function that increases the resolution of scan on small documents to maintain legibility, mark text function that recognizes and mark highlighted text as searchable keywords, ABBYY FineReader for ScanSnap for transforming scanned documents to editable Word and Excel files, grayscale support for scanning images and text in grayscale, automatic paper size detection, automatic de-skew (trust us, you will love this feature!), orientation, and blank page detection and deletion. if you have lengthy receipt to scan, the S1300i will have your back covered as it can scan document up to 34 inches (86 cm) long and a 10-page automatic document feeder lets you pre-load more to be scanned. bearing the similar small footprint as its predecessors and weighing in at just 3.1 lbs (1.4 kg), you can easily bring the S1300i with you when you hit the road and if you are using it at home or at work, it will sure save you some valuable table top real estate.
the Fujitsu ScanSnap S1300i is available now with a price tag of $295.