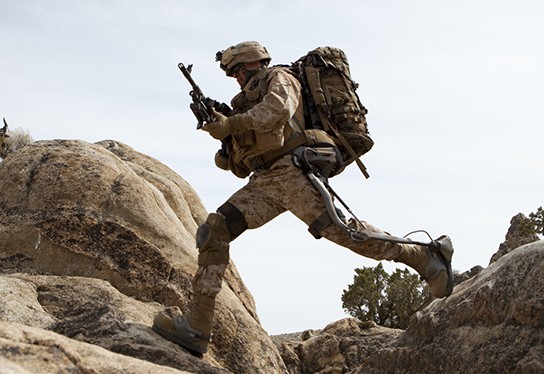 (photo source: lockheedmartin.com)
Lockheed Martin began putting its improved next-generation design of the HULC™ advanced robotic exoskeleton thru laboratory test. in case you haven't heard, the HULC (or Human Universal Load Carrier) is an untethered, battery-powered, hydraulic-actuated anthropomorphic exoskeleton capable of performing deep squats, crawls and upper-body lifting with minimal human exertion.
[ad#Google Adsense-text-468×60]
the improved version features new environmental sealing and packaging to better protect the system's electronics from natural elements, typical of combat environment, improved control software to better track the operator's movement and military-standard rechargeable batteries are employed to increase operational runtime.
unlike the Raytheon's Exoskeleton 2 Robotic Suit, the HULC does not have 'arms' but instead uses power-assisted straps to lift loads. besides assisting in load carrying tasks, the HULC aims is to decrease the operator's metabolic cost, hence increasing a soldier's endurance in long duration missions.
the testing is to further validate the ruggedized system capabilities and reliability in simulated combat environments. the form and fit has ask been further refined to enable the operator to easily adapt to the exoskeleton in a much shorter time. the torso and thigh length can also be adjusted rapidly and repeatedly without the need for special tools. the ruggedized form also incorporates a structure that confirms to the body and includes lumbar padding for improved comfort and support to the operator.
various testings are underway for the HULC to validate it's durability, strength and performance including biomechanics, dynamic load and simulated battlefield conditions, including simulated harsh natural elements such as sand, wind and rain.
the HULC was originally a research project by Berkeley Robotics & Human Engineering Laboratory.
visit Lockheed Martin.